>
City Council
>
District E
> District E Staff
District E
District E Staff
Our entire team understands that our number one priority is constituent service. Our positive and responsive customer service approach is a valuable and unique addition to Houston City Council. We are excited to have the opportunity to work for District E, and look forward to serving you.
Thank you.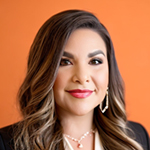 Jessica Beemer
Chief of Staff
Jessica Beemer is no stranger to the Houston area, as she was raised just up the road in Atascocita. After graduating from Humble High School, Jessica headed west to attend the University of Texas at San Antonio. She is now the proud recipient of not one, but two degrees from UTSA – her first, a Bachelor's degree in Political Science and her second, a Master's degree in Public Administration.
During her time at UTSA she took on multiple leadership roles. She served as the Executive Vice President of Sigma Kappa Sorority; the President of the UTSA Panhellenic Conference and founded the organization "Be A Responsible Roadrunner". All of which led to her eventual coronation as Ms. UTSA 2008.
During graduate school, Jessica was accepted into the Archer Fellowship Program in Washington, DC where she attended classes at University of Texas System in DC, all while interning for National Republican Congressional Committee. She was fully immersed in to the Capitol Hill lifestyle, but chose to return to Texas to complete her degree program.
Once back in classes at UTSA, Jessica was hired by the San Antonio Area Foundation's Grants and Programs Department to work with animal welfare. Upon graduation, Jessica accepted a position as the South Texas Field Director for Lt. Governor David Dewhurst.
While she loved working in South Texas, Jessica desired to return home to Houston. After almost eight years in San Antonio, she is looking forward to again exploring the City of Houston, creating relationships with the residents of City Council District E.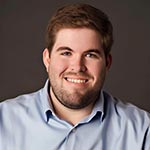 Dustin Hodges
Deputy Chief of Staff and North Sector Manager
Dustin Hodges was promoted to District E's Deputy Chief of Staff in 2023 and continues to serve the District as our North Sector Manager. Dustin graduated from Texas Tech University in 2012 with a Bachelor's degree in Sociology. In 2018, he graduated from the George Bush School of Government & Public Service at Texas A&M University with his Master's degree in Public Service and Administration. Before pursuing his Master's degree, Dustin spent nearly 5 years working for his hometown of Bay City as the City's Public Information Officer and Chief of Staff to the Mayor. During his time with City of Bay City he served as Education Chair of the Matagorda Local Emergency Planning Committee, Chairman of the City's Charter Review Commission, and was an active member of the Bay City Lions Club. After graduating with his Masters, Dustin and his wife, Meghan, moved to Houston to start their family. He enjoys trips to the park with his dog Finley, road tripping around Texas and exploring all the great things Houston has to offer.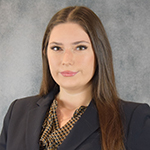 Daria Glasscock
Constituent Outreach Representative and South Sector Manager
Daria Glasscock graduated with her Bachelor of Arts in Communication in the Fall of 2022 and grew up in the Clear Lake area so she has a special connection to the community she serves. She aspires to take excellent care of the residents living on the south side of District E. Daria is excited to be planning her wedding this fall to her fiancé Grayson who she shares two french bulldogs with, named Luca & Nala who love spending the weekend together running errands. Despite her busy schedule with the District E Office, Daria remains committed to giving back to her community and inspiring the next generation of community leaders. Her passion for service continues to inspire those around her, and her contributions to the Houston community are truly invaluable.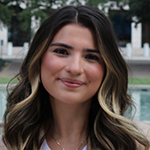 Demari Perez
Executive Assistant & Scheduler
Demari Perez is a bilingual-speaking, 4th generation native Houstonian born to Mexican/Cuban parents, where she was raised near Cypress, Texas. Demari was promoted from District E intern in early 2023 after a successful Spring semester, as part of the University of Houston City of Houston Internship Program, and is now working in the District E office as the Executive Assistant and Scheduler. After graduating Summa Cum Laude from Cy-Fair Independent School District in 2020, she fast-tracked her path at Lone Star College and attained her Associate of Arts in 2021, then transferred to the University of Houston where she is enrolled and thriving towards a career in law with an expected graduation with a Bachelor of Arts in Political Science and a minor in Public Relations by the end of 2023. Demari has actively been working within the marketing industry for more than 5 years, and she currently provides Digital Media Marketing services as well as Social Media Marketing to agencies in Houston, TX. Her passions include singing, dancing, law, and serving her community.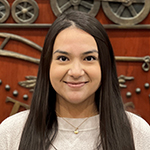 Yasmine Perez
Office Manager
Yasmine was promoted from District E intern in early 2023 after a successful Spring semester, as part of the University of Houston City of Houston Internship Program, and is now working in the District E office as the Office Manager. She is a senior at the University of Houston with 5 more classes left until graduating with a B.S. in Psychology, and a minor in Political Science. She was born in Houston and has been here ever since. She is hoping for this opportunity with District E to sharpen her administrative skills and help the community along the way. Yasmine enjoys baking desserts and breads to share with others and finding new taste-worthy bakeries around the city. She has learned to love running the 3-mile loop at Memorial Park because of this. Yasmine will be assisting with answering incoming calls and supporting constituent services.