>
City Council
> District H
District H
Council Member Karla Cisneros
Karla Cisneros is dedicated to serving her constituents as the City of Houston's District H City Council Member, representing historic neighborhoods to the north and to the east of downtown Houston. Council Member Cisneros also chairs the City Council Childhood & Youth Committee.
The Council Member's primary focus of improving opportunities to support a flourishing workforce is evidenced by her investment in parks, libraries, after school and summer enrichment programs, and improving the quality of early childcare centers. Council Member Cisneros has also led initiatives to promote spay/neuter efforts and bring awareness to the pet overpopulation problem; address illegal dumping through an education campaign, hidden cameras, and supplemental collection services; advocate and secure funding for sidewalk, street and mobility improvements that create safer environment; and support opportunities for increasing public art in District H neighborhoods. More ...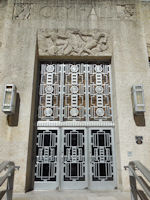 Council Meetings, Committees & Agendas
Houston City Council meets Tuesdays at 1:30 p.m. and Wednesdays at 9 a.m. in the council chamber at City Hall. Tuesdays are reserved for public comment while Wednesdays are for matters that require council action. All meetings are open to the public. You can also watch meetings live online.