> Municipal Courts

SPECIAL NOTICE
Attention Citizens:
DUE TO COVID-19, MANY OF YOU ARE PART OF THE VULNERABLE POPULATION, ESPECIALLY IF YOU ARE OLDER THAN 65 YEARS OF AGE, SUFFERING WITH UNDERLYING HEALTH CONDITIONS, SUCH AS HIGH BLOOD PRESSURE, CHRONIC LUNG DISEASE, DIABETES, OBESITY, ASTHMA, OR WHOSE IMMUNE SYSTEM IS COMPROMISED DUE CHEMOTHERAPY FOR CANCER OR ANY OTHER CONDITION REQUIRING SUCH THERAPY.
IF YOU ARE PART OF THIS GROUP PLEASE CONTACT THE COURT AT 713.247.8924 AND SPEAK TO SOMEONE REGARDING A SPECIAL ACCOMMODATION AND A SPECIALIZED DOCKET TO ENSURE YOUR CONTINUED SAFETY.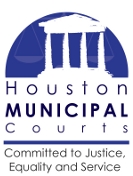 NOTICE: It has come to the attention of the Houston Municipal Courts that companies are using text messages to solicit services. The text message requests the user to click on a link to reset their case(s) for a fee. The Houston Municipal Courts DOES NOT charge defendants to reset cases. Rules and guidelines on how to handle any of your court business, including instructions on how to reset and pay for your case(s), as well as downloadable forms, are available at no charge on our website. To speak with a Municipal Courts representative, please dial 3-1-1 or 713.837.0311, if outside Houston city limits.
The Mission of the Municipal Courts Department is to provide an accessible legal forum for individuals to have their court matters heard in a fair and efficient manner, while providing a high level of integrity, professionalism and customer service.
Ticket Payments
The City of Houston Municipal Courts accepts payments in cash, check, money order, ATM debit card, and credit card (American Express, Visa, MasterCard and Discover).
Feedback on Officer
To provide feedback regarding the officer who issued your citation, contact:
Defensive Driving
Fines and Fees
Other Available Options
If you are having difficulty satisfying your court ordered judgment, please come in and speak with an Annex Court Judge at any of our court locations.
Deferred Disposition
City / HPD Jail Information
Trial Dockets
The week's trial dockets are available online in .pdf format. Click on a week day below to view that particular docket.