>
Wiping Out Graffiti in Houston
> Take Action
Wiping Out Graffiti In Houston
Take Action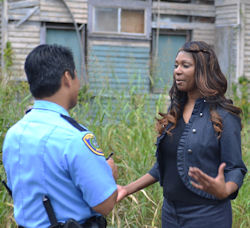 Houston treats graffiti vandalism as a crime, not a prank. If you are caught defacing property, expect to face legal consequences. There are also penalties for anyone who contributes to the crime, whether that person is the parent of an offender or a business owner.
The City of Houston and several local organizations are doing a number of things to decrease this vandalism, such as painting over and removing graffiti on public property and other areas in designated corridors.  Property owners are also encouraged to plant trees or ivy to cover walls and fences that have been marked with graffiti. 
Get Involved
What can you do to help get rid of graffiti?
Report graffiti in progress or graffiti that needs to be removed.
Organize a neighborhood paint-out or create a community mural.
Donate brushes, rollers and other materials for the removal of graffiti.
Learn more about graffiti and educate others about the negative effects it can have on your community.
Getting Rid of Graffiti
Remove Graffiti within 24 – 48 hours of Discovery
Studies show that the removal of graffiti within 24 to 48 hours results in a nearly zero rate of reoccurrence.
Remove it Right
Unfortunately, many efforts to remove illegal graffiti leave surfaces looking worse than before the work was done. Often this is because those doing the work do not know what agents and methods are required, have not been properly instructed or have ignored instructions. Using proper removal methods will be less labor intensive. When painting entire surfaces, consider saving enough paint for later use, should other tagging occur. If the surface is tagged, the touch-up paint will blend in perfectly and require minimal time.  
Painting over Graffiti
Paint a straight and even border to mark area that will be painted.
Try to color-match paint to surface whenever possible.
Save a few gallons of paint for touch-ups.
Take precautions to avoid drips and spills.
Don't paint a large surface more than five times. This prevents the surface from breathing, which can cause the structure to deteriorate.  After five coats, strip the paint before repainting.
Avoid painting unpainted masonry surfaces such as brick, stucco and marble.
Don't be discouraged if vandals tag the surface again and repeated paint-overs are needed.  If you paint over the graffiti promptly, the vandal will get the message that graffiti will not be tolerated in that area and move on.
Ensuring Safety
Health and safety regulations must be followed in all graffiti removal work. 
Safety Guidelines
Always follow regulations pertaining to the use and storage of products and their residue.
Follow occupational hygiene procedures.
Take personal safety precautions.
Handling and Storage of Chemical Agents
Solvent-based graffiti removers have de-fatting properties that can cause dermatitis if they come in contact with the skin.  Skin protection is always needed.
Safety goggles should be worn when working with chemicals and when working on overhead surfaces.
Rubber or latex gloves should always be used.
Barrier paints should not be used as a primary form of protection.
Always follow application directions on the product label.
Proper clothing and footwear (no sandals) should be worn.
Use drop cloths.
Properly dispose of water used to clean tools and equipment.
Properly store unused paint and solvents.
Properly dispose of unusable paint and solvents.  Completely dry paint containers can be put out with recycling.
Hazardous operations must be continuously supervised.
Preventing Hazards
Substances can be absorbed into the body in three ways:  ingested through the mouth, absorbed through the skin or inhaled.  Take precautions to prevent these hazards.
Smoking and the use of drugs and alcohol while working should be strictly prohibited.
Eating and drinking while working should also be prohibited.