>
Wiping Out Graffiti in Houston
> Things to Do
Wiping Out Graffiti In Houston
Things to Do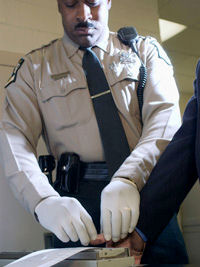 Get educated. Learn about graffiti, how it impacts your community, who is responsible for graffiti prevention and cleaning it up.
Report graffiti. Call 311 or the appropriate authority if you spot graffiti or if you see someone committing the offense.
Organize a Paint-Out. Free paint for citizens who have been victims of illegal tagging is available through the Solid Waste Management Department's Environmental Service Center, 11500 South Post Oak.  The repurposed paint can be picked up on Fridays, 9 a.m. – 12 noon.  For urgent graffiti abatement deadlines, call 713-551-7355 to make an appointment.  Companies and individuals are welcome to drop off paint for re-purposing, Tuesdays and Wednesdays, 9 a.m. – 3 p.m., and the second Saturday of each month, 9 a.m. – 1 p.m.
Plan a Mural. Organize a group of community volunteers to paint a mural over walls plagued by graffiti.
Coordinate a Graffiti Awareness Campaign. Organize a volunteer group at your school or in your neighborhood to raise awareness about graffiti and ways to prevent it.
Plant Trees and other Greenery. Organize a volunteer group to plant trees, shrubs, flowers and other greenery near a graffiti-targeted wall.
Organize a Citizen Patrol Group. For information about how to organize a citizen patrol group, call the Houston Police Department Citizen Patrol liaison in your area, listed below:
Substation

Address

Officer/Phone #

Central – 1

61 Riesner
Houston, TX 77002

W. Pate
713-284-8610

Central – 2

61 Riesner
Houston, TX 77002

S. Duffy
713-803-1151

Clear Lake

2855 Bay Area Blvd
Houston, TX 77058

R. L. Derr
281-218-3900

Eastside

7525 Sherman
Houston, TX 77012

R. Trejo
713-928-4600

South Gessner

8605 Westplace Drive
Houston, TX 77071

K. Woods
713-314-3171

Kingwood

3915 Rustic Woods

Kingwood, TX 77339

D. E. Ulrich
281-913-4522

Midwest

7277 Regency Square
Houston, TX 77036

D. Domages
713-735-2062

North

9455 W. Montgomery

Houston, TX 77088

Sgt. F. Escobedo
281-405-5341

Northeast

8301 Ley Road
Houston, TX 77028

K. Miles
713-635-0302

Northwest

6000 Teaque
Houston, TX 77041

R. L. Smith
713-744-0900

South Central

2202 St. Emanuel
Houston, TX 77003

B. Tatum
832-394-0114

Southeast

8300 Mykawa
Houston, TX 77048

T. Harris
713-991-3504

Southwest

4503 Beechnut
Houston, TX 77096

R. White
713-433-2720

Westside

3202 South Dairy Ashford
Houston, TX 77082

M. Prause
713-773-7000