>
Mayor's Office of Trade and International Affairs
> Flag Rental Form
Flag Rental Form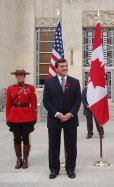 The Mayor's Office of Trade and International Affairs has flags for all of the nations represented in Houston's consular corps as well as most countries represented in the Summer Olympic Games. When planning an international event, our office can assist you in renting our international flags as well as explaining how to properly display the flags.
Please treat the flags with respect and courtesy. The borrowing organization/person assumes the responsibility of returning items promptly and in good condition. Each flag must be returned to its corresponding labeled bag attached to its flagpole. You are responsible for any damage incurred during the time you borrow them. Please report any missing or damaged flags immediately so as to avoid incurring the related expenses.
You are required to make arrangements for pick up and delivery of the flags to and from MOTIA. The flags are for indoor use only. Should any item be damaged or lost, the borrower will be billed for replacement and/or cleaning at a cost of ten dollars ($10.00) per flag for cleaning, fifty dollars* ($50.00) per flag for replacement, fifteen dollars ($15.00) per flag cover, eighty ($80.00) for flag pole and filial, ninety ($90.00) for each individual flag stand, and one hundred ($100.00) for group stands.
Important information: Daily Fee Rental: $500.00 charge for all the flags or $10.00 charge per flag. All flags are nylon 3'x5' attached to 8' wooden pole. (Please do not remove flag from pole.) Cost includes stand. Highlight or circle corresponding flag number. All checks for flag rental should be made either to Mayor's Office or better to Office of Trade and International Affairs
*Some flags may be more expensive; borrower will be responsible for actual replacement cost.
Available flags are listed below, please complete the form below this graphic: