>
Planning
>
Transportation
> Houston BCycle Program
Houston BCycle Program
Houston BCycle is a bike share program and initially began as a pilot project in May 2012 with 3 bike stations and 18 bicycles at City Hall, Market Square Park, and George R. Brown Convention Center. The project was funded through an EPA grant the City received as a way to encourage biking in Houston. The City worked with a group of volunteers to establish Houston Bike Share, a 501(C)(3) non-profit organization, to operate and maintain the bike share program. In 2013, the bike share system grew to 29 stations and 215 bicycles, and by the end of 2016, 33 stations and 225 bikes were in operation.
In January of 2017, the Houston BCycle expansion project kicked off and the network now has 66 bike stations. These bike stations are located throughout the downtown area and adjacent neighborhoods which include Montrose, Midtown, East End, Heights, Museum District, Near Northside, Washington Corridor, Third Ward, and Rice University.
The program is successful with more than 100,000 rides per year and ridership continues to grow as we expand the bike share network. The number of BCycle trips taken in 2017 increased by 26% compared to 2016. Want to ride a BCycle? Want to ride a BCycle? Visit Houston BCycle for more information.
---
Expansion Project
The Planning and Development Department sponsored an application in the 2015 Transportation Improvement Program Call for Projects to expand the Houston BCycle program and was awarded a grant from the Federal Highway Administration. The expansion project will almost quadruple the size of bike share in Houston over the next two years by adding 97 bike stations and 767 bicycles. Two transport vans will also be added to help distribute bikes across the BCycle network. As new stations are added to the network, the bike share system becomes more useful by connecting more neighborhoods to job centers and recreational destinations.
The grant will reimburse the City for 80% of the cost to expand the system, up to $3.7 million. Houston Bike Share, the City's project partner and program operator, will provide the 20% local match requirement and oversee installation of the bike stations.
---
Project Area
---
Bike Stations
Installation of the bike stations began in January of 2017 and is expected to be completed in 2020. BCycle stations installed to date:
Crawford Island (Downtown) – 925 Crawford St.
Guadalupe Park Plaza (EADO) - 238 Flynn St.
Woodland Park (Heights) - 2760 Houston Ave.
Lost Lake (Montrose) - 3450 D'Amico St.
Main & Wichita St. (Museum District) - 4912 Main St.
Jury Assembly (Downtown) – 1202 Franklin St.
Emancipation Park (Third Ward) - 3100 Dowling St.
Baldwin Park (Midtown) – 1701 Elgin St.
Moody Park (Near Northside) - 3812 Baden St.
Navigation Esplanade (Greater East End) – 2501 Navigation Blvd.
Health Museum (Museum District) – 1515 Hermann Dr.
TC Jester & Washington (Washington Corridor) – 5418 Washington Ave.
Gateway on Cullen (EaDo) – 1815 Cullen St.
HCC Central (Midtown) – 1300 Holman St.
Centennial Gardens (Hermann Park) – 1500 Hermann Dr.
Greenbriar Lot (Rice University) – 5650 Greenbriar Dr.
West Lot (Rice University) – College Way
Gibbs Rec Center (Rice University) – 20 Alumni Dr.
*Jackson Hill & Memorial Dr. (Washington Corridor) – 300 Jackson Hill St.
*Westheimer & Waugh (Montrose) – 1111 Westheimer Rd.
*Jury Assembly (Downtown) – 1202 Franklin St.
24Eleven Washington (Washington Corridor) – 2411 Washington Ave.
Montie Beach Park (Heights) – 915 Northwood St.
Rice Village Apartments (Rice University) – 2410 Shakespeare St.
South Servery (Rice University) – Alumni Dr.
Cambridge Office Building (Rice University) – 6100 Main St.
Duncan Hall (Rice University) – Laboratory Rd.
2222 Smith (Midtown) – 2222 Smith
Ben Taub Hospital (TMC) – 1504 Ben Taub Loop
Bobcat Teddy's (Heights) – 2803 White Oak
TMC Commons (TMC) – 6550 Bertner Avenue
TMC Fannin & Ross Sterling (TMC) – 6403 Fannin
TMC Garage 2 (TMC) – 1150 Bates Avenue
TMC Transit Center (TMC) – 6910 Fannin
BioScience Research Center (Rice University) - 6500 S. Main St.
Cougar Village (University of Houston - Main) – Cougar Village Dr.
ERP (University of Houston - Main) – 2190 Schlumberger St.
Student Center North (University of Houston - Main) – 4465 University Dr.
TDECU Cullen & Cougar Village (University of Houston - Main) – 3875 Holman St.
Amherst & Kelvin (Rice Village) – 2503 Amherst St.
Dunstan & Kelvin (Rice Village) – Kelvin St.
UT Pressler & Bertner (TMC) - 1200 Pressler St.
UT Research Park ( TMC) – East Rd.
UTMDA 1MC Bertner & Braeswood (TMC) – 7007 Bertner Ave.
UTHSC Housing & Rec Center ( TMC) – Bertner Ave. & West Rd.
UTMDA Main Campus MDA Blvd. (TMC) – 6499 MD Anderson Blvd.
Student Center East (TSU) - 3100 Cleburne St.
University Towers (TSU) – 3531 Wheeler St.
TSU Rec & Wellness Center (TSU) – 3100 Cleburne St.
University Courtyard Apartments (TSU) – 3503 Blodgett St.
The Southmore (Museum District) – 5280 Caroline St.
TMC Garage 8 (TMC) – 2151 W. Holcombe
UH Blaffer Art Museum/GDH School of Architecture (University of Houston) – TBD
UH Student Garage/METRORail (University of Houston) – TBD
Memorial Park Picnic Loop (Memorial Park ) – S. Picnic Ln.
Memorial Park Running Center (Memorial Park ) – N. Picnic Ln.
Saint Arnold's Brewing Company (Inner Loop Northeast) – 2000 Lyons Ave
Midtown Park (Midtown) – 2811 Travis St.
Heights Mercantile (Heights ) - 703 Yale St
Heights Central Station (Heights ) - 1051 Heights Blvd
*Replacement stations due to damage from Hurricane Harvey
For further information about this grant, please contact:
Anna Sedillo, Project Manager
832-393-6578
anna.sedillo@houstontx.gov
News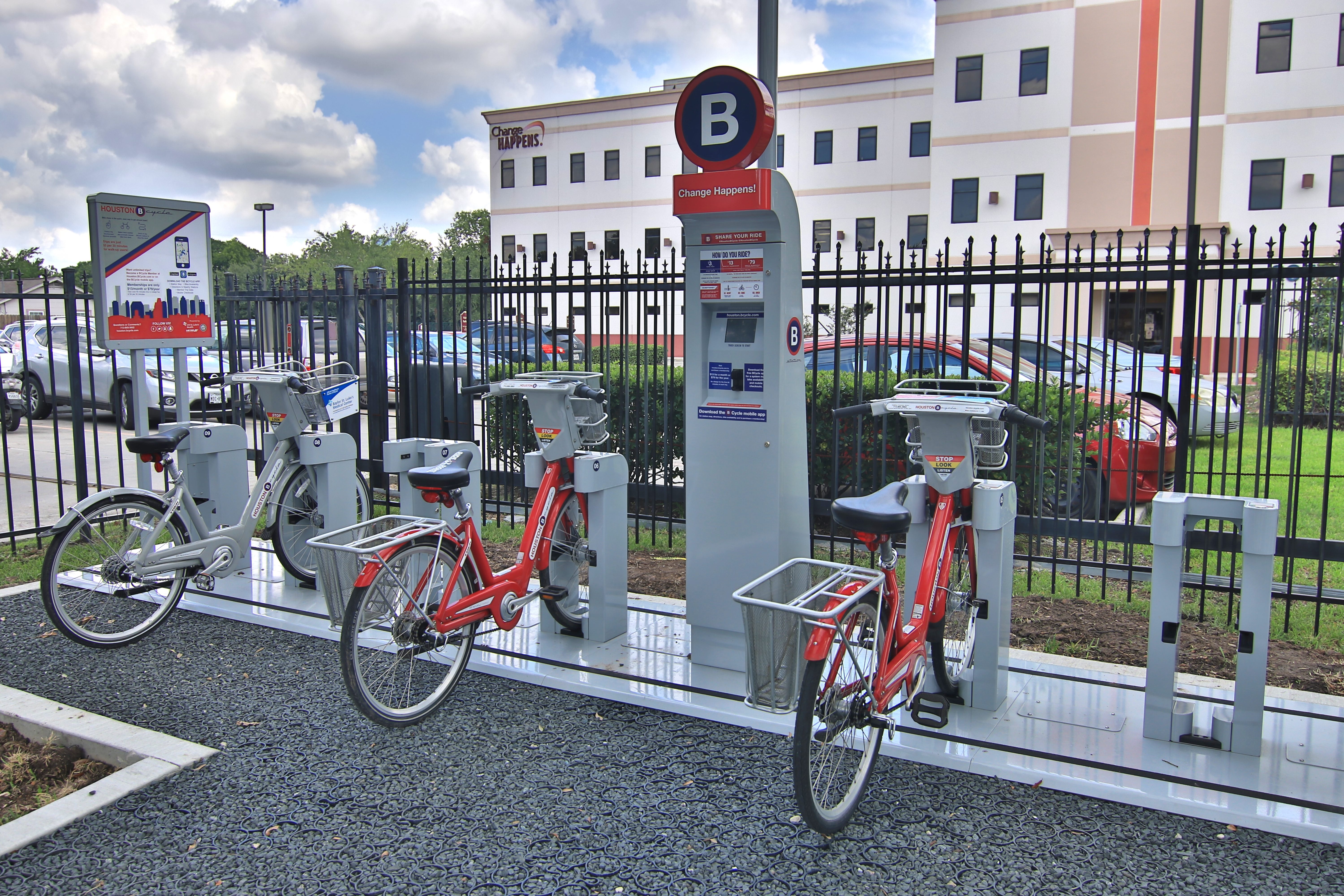 8.20.2019
Change Happens and Houston BCycle to Launch the GO Pass, a $3 per Month Bike Share Membership with Cash Payment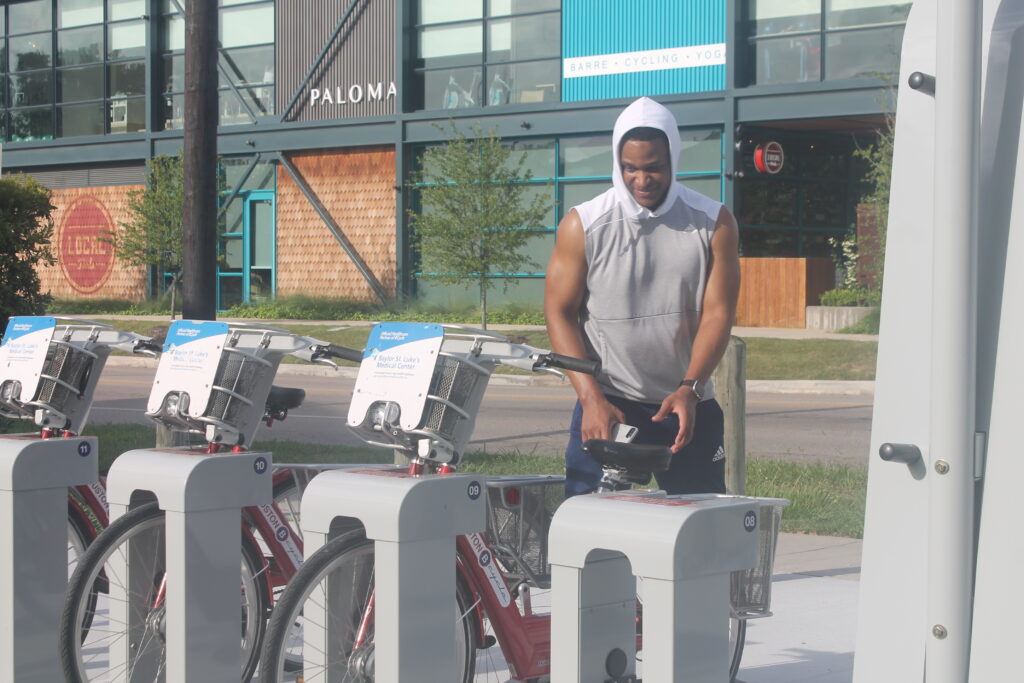 6.26.2019
Citywide bike-sharing initiative reaching new Heights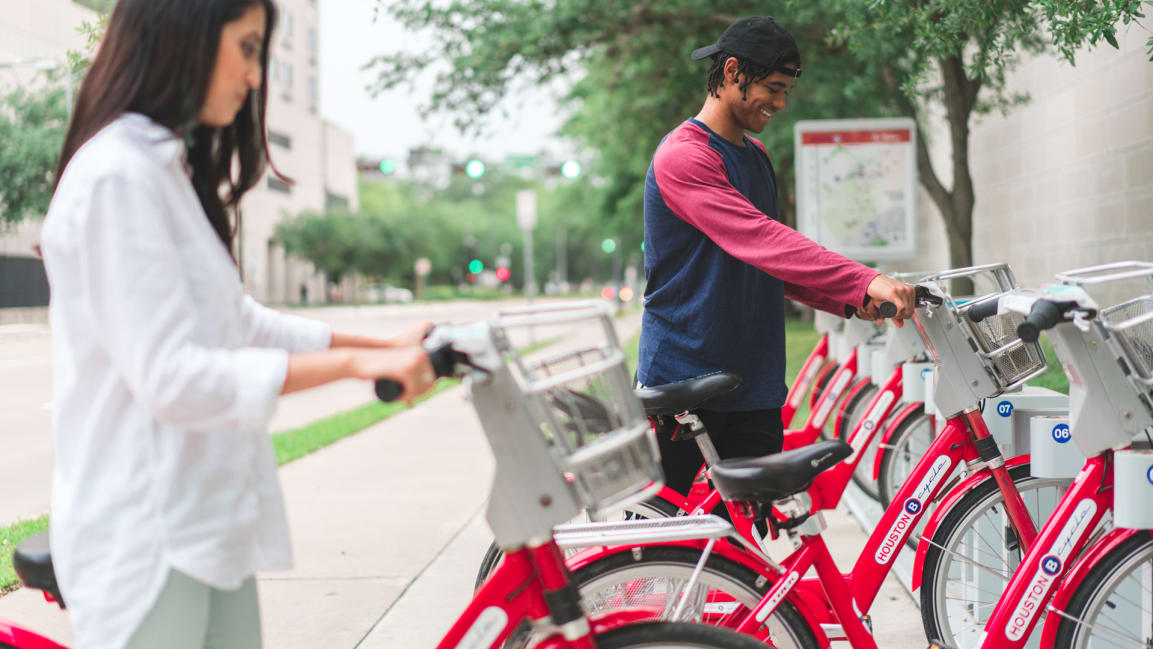 4.26.2019
Fast Company: Houston's booming bike-share system is reshaping a car-centric city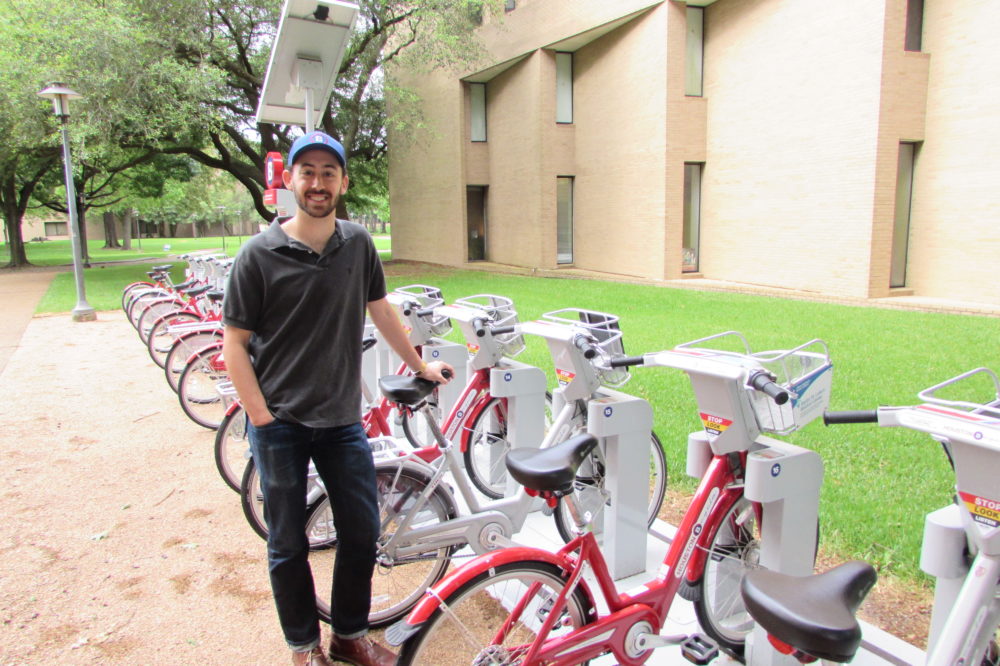 4.8.2019
Houston Matters: Houston's Bike Share Ridership Up Over 65 Percent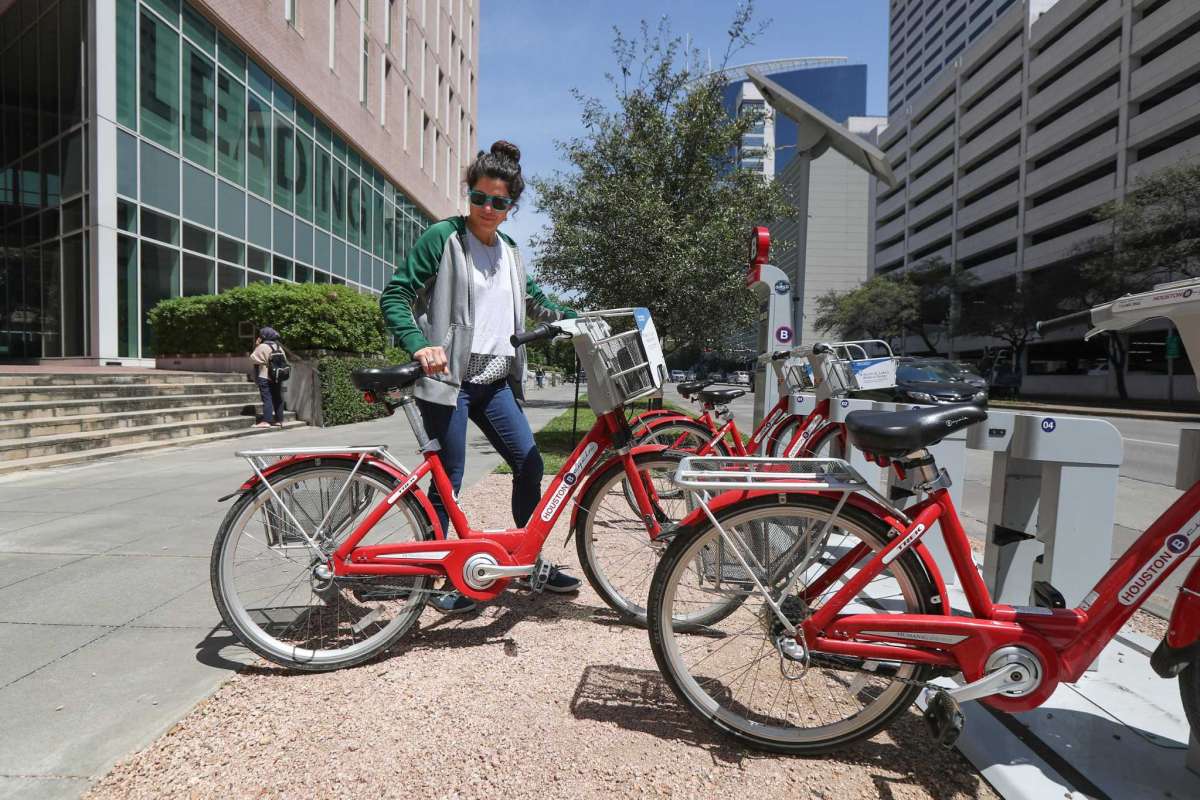 4.4.2019
Houston Chronicle: Bike sharing spreads, as Houston waits on motorized scooters