>
Planning
> Office of Historic Preservation


Historic
Preservation Tracker

Old Six Ward
Historic Districts
Design Guidelines

Houston Heights Historic Districts
Design Guidelines
New initiatives & announcements
Scroll through the slides to see what's new in Historic Preservation.
Historic Preservation Tracker
All applicants for a Certificate of Appropriateness (COA) must apply online using the Historic Preservation Tracker. Preservation Tracker allows historic property owners and their agents to submit Certificate of Appropriateness (COA) applications. Applicants and the public may track the progress of COA applications, and view and download HAHC agendas and meeting minutes.
Historic Preservation Manual
The Historic Preservation Web Manual provides a road map for obtaining the approvals necessary to undertake such changes. They are intended to provide clear direction to property owners and professionals with regard to modifying, maintaining and protecting the historic resources in our communities.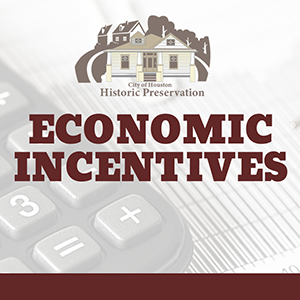 Historic Site Tax Exemptions
City Council recently adopted tax exemptions for the restoration and renovation of historic sites. The historic site tax exemptions benefit all sizes and values of properties, in all types of neighborhoods. ... The exemptions apply to historic structures that have been designated as a landmark, a protected landmark, or as a contributing structure, pursuant to Article VII of the Chapter 33 Historic Preservation Ordinance. The Historic Site Tax Exemption Program is administered by the Mayor's Economic Development Office. Visit the program page for more information. Click the View More button to view the two tiers of tax exemptions and descriptions.
Houston Archaeological and Historical Commission (HAHC)
>> View More
Helpful links and Resources