>
Solid Waste Management
> Letter from the Director
Solid Waste Management Department
Harry J. Hayes
Director of Houston's Solid Waste Management Department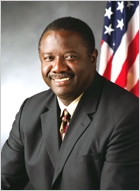 Harry J. Hayes was appointed and confirmed as the Director of Houston's Solid Waste Management Department (SWMD) on August 1, 2007. As Director, Mr. Hayes oversees an $80 million budget and is responsible for solid waste services to approximately 423,000 households. Houston's solid waste operation is the 4th largest municipal solid waste operation in the nation, and the largest in the Southern United States.
Beyond serving as the Solid Waste Director, Mr. Hayes is the Chief Operating Officer (COO) for the City of Houston. Originally appointed to this position by Mayor Annise D. Parker as she began her final term of office in 2014, Mr. Hayes was immediately reappointed as COO In January 2016 by newly elected Mayor Sylvester Turner.
As COO, he reports directly to the Mayor and has oversight of major Houston operations which include the following departments: Police, Fire & EMS, Public Works & Engineering, Municipal Courts, Solid Waste Management and Fleet Management. The Operations Group employs more than 15,000 of the city's nearly 21,000 employees and has combined budgets of nearly $2.48 billion.
Mr. Hayes has been employed with the City of Houston for 32 years, originally beginning his service in 1988 as a special assistant to City Council Member Rodney Ellis. As a public sector employee, he has held positions as Human Resources Manager, Safety & Training Manager, and Human Resources Director.
Mr. Hayes graduated from Texas Southern University in 1988 with a B.A. in French. He did specialized studies at the Universite de Bordeaux III in Talence, France; la Connaissance de la France with the French Ministry of Culture in Paris, France; and a Leland Congressional internship in the U.S. House of Representatives, Washington, D.C.
Mr. Hayes is a veteran of the U.S. Army, having served as an enlisted member and an officer, specializing in administration, human resources and logistics. He is married with three children.
(Rev. 08272019)
A Letter from Director Hayes
Letter from the Director
The City of Houston is the 4th largest city in the United States and is one that is diverse in so many aspects: people, culture, housing and the weather to name a few. Therefore, wise management of solid waste services in a tight economy is critical. The Solid Waste Management Department has an annual budget of approximately $86 million dollars that is funded by the City's General Fund with monies generated from property taxes.
On this site, you will find information about the wide spectrum of solid waste services we provide and the guidelines pertaining to these services. We also post every neighborhood's schedule on this site, as well as the holiday collection schedule and helpful numbers and links.
The Solid Waste Management Department serves over 386,669 Houston homes with direct garbage, recycling, yard trimmings, and tree waste/junk waste collection. We also extend the opportunity to recycle to every Houstonian through the provision of recycling drop-off sites around the city. We offer six Neighborhood Depositories/Recycling Centers for tree waste/junk waste drop-off and recycling. We also span a 640 square-mile area with dead animal collection on City streets.
We encourage everyone to practice the 3R's. That is to Reduce, Reuse and Recycle. Our signature recycling site, the Westpark Consumer Recycling Center, is a drive-through drop-off site which accepts used motor oil and oil filters, used tires, residential computers and other electronic scrap, glass bottles and jars, newspaper, aluminum and tin cans, magazines, corrugated cardboard, batteries, latex paint, plastic containers, Styrofoam blocks and anti-freeze. In addition, we provide multiple recycling drop-off sites around Houston for residents to utilize.
Be sure to take extra precaution when handling common household chemicals. The City of Houston offers a safe and environmentally-friendly manner to dispose of household hazardous waste and electronic scrap at its two Environmental Service Centers.
The Department has implemented effective programs to reduce and divert waste from area landfills. The Tree Waste/Junk Waste program collects tree waste exclusively during ODD months and Junk Waste during EVEN months.
The Compostable Bag Program requires residents choosing to bag their yard trimmings to place them in city-approved compostable bags for collection. Once the green material composts, it is bagged and sold at local hardware stores and Living Earth facilities.
The Department has forged new partnerships with area businesses thereby increasing diversion of more valuable material from the landfill. Markets have been identified for concrete, textiles, mattresses and cartons enabling the City to divert these additional materials from the waste stream.
These programs will help us preserve landfill space, save tax dollars by avoiding landfill tipping fees and offering reuse for the materials collected.
As we look to the future, we must do what is necessary to minimize the waste that is being produced and what is currently going into the area landfills.
To remain a viable choice for solid waste service delivery, our department chooses to:
Explore cost-effective environmentally friendly options to conserve natural resources and preserve landfill space.
Remain responsive and flexible to meet the needs of its regular customers.
Seek continuous improvements to reduce the cost of operations.
Forge strategic partnerships with public, private and civic groups in the greater Houston community.
Continue to hire, train and promote dedicated workers.
Houston is a beautiful place to reside. We want to leave our children and grandchildren with a safe, clean place to live. We look forward to working with and for you in leaving a "green" legacy.
Sincerely,
Harry J. Hayes
Director