>
Solid Waste Management
> Environmental Service Centers (ESC)
Solid Waste Management Department
Environmental Service Centers (ESC)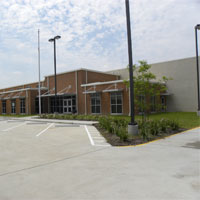 ESC - SOUTH
11500 S. Post Oak Rd., Houston, TX 77035
Key Map # 571C
Facility Hours:
Tuesdays and Wednesdays
9 am to 3 pm
Second Saturday of each month
9 am to 1pm
View Larger Map
---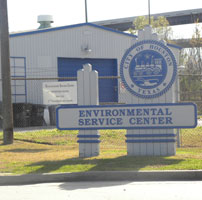 ESC - NORTH
5614 Neches St Houston, TX 77026
Key Map # 454S
Facility Hours:
2nd Thursday of each month
9 am – 3 pm
View Larger Map
---
Note: Rules and guidelines apply to both the North and South locations with the exception of times of operation.
Accepted Items at both ESC's
Acids
Aerosol Cans
Antifreeze
Batteries (Lead Acid & Rechargeable only, i.e.: car and motorized vehicles & equipment batteries; lithium - ion (Li-ION); nickel metal hydride (Ni-MH); nickel cadmium (Ni-CD). Batteries mentioned are accepted at both ESC locations and Westpark. Alkaline batteries and batteries not listed will not be accepted.You may safely dispose of 9V and 6V batteries by taping their terminals, sealing them in a plastic bag, and then tossing them in the trash.
Brake Fluid
Car Waxes
Computer Equipment and Components
Cooking Oil
Degreasers
Drain Cleaners
Electrical Appliances (small)
Electronic Scrap
Fertilizers
Fluorescent Bulbs
Fuels
Helium Tanks (5 gallon maximum)
Herbicides
Household Chemicals
Kerosene
Lawn Equipment (all fluids removed)
Mercury
Metal Polish
Metal/Wire Clothes Hangers
Microwaves
Monitors
Motor Oil
Paint (Latex & Oil Base) -  25 gallons maximum
Paint Stains/Thinners
Pest Strips
Plastic Film
Pool Chemicals
Power Steering Fluid
Printers
Propane Tanks (5 gallon maximum)
Solvents
Styrofoam Blocks (plastic #6 only; packaging "peanuts" are not accepted.)
Telephone Equipment
Thermostats (Mercury Based Accepted)
Tires (5 tires per residence, per month, no commercial vehicle tires)
Transmission Fluid
Turpentine
TVs (do not breakdown/strip; see weight limit & restrictions)
Varnishes
Household hazardous waste or residential electronic scrap items should not be placed on the curb or in your automated container for garbage collection or tree waste/junk waste pickup.
Residential electronic scrap items accepted for recycling include:
Monitors
CPUs
Televisions
VCR/DVD/Blu-Ray players
Small Electrical Appliances
Stereo Equipment
Items Not Accepted at the ESC
The ESC can accept most household hazardous wastes. However, there are some materials the ESC is not authorized to accept which includes the following:
Ammunition
Businesses Waste
Dioxins
Explosives
Foam Rubber Sheets
Freon Containing Appliances
Large Appliances
Medical Waste
Packing Peanuts
PCBs
Pharmaceuticals
Propane and Butane (gas) Cylinders
Radioactive Waste
Smoke Detectors
Limits and Quantities
City of Houston residential customers only; no business waste
Vouchers (must be purchased in advance by participating communities; non-Houston residential customers only)
Total weight of materials not to exceed 100 lbs
No individual item to exceed 50 lbs
Individual household quantities only
No area wide or commercial quantities
HHW Materials: ½ pickup truck load, 1 trunk load or approximately 100 pounds total weight
Paint: 25 gallons per visit
Tires: 5 tires per residence, per month, no commercial vehicle tires
Safety Tips for Handling & Transporting Materials
Keep items in their original containers, when possible
Place broken or leaking containers inside a second container. (i.e. glass for corrosives, metal for flammables).
Prevent injuries & chemical reaction by not tossing items together in a bag
Place items upright in a box for transport;
Fuel: transport in closed non- returnable containers
Dry paint may be placed in the trash.
If a container has no label and its contents are known, please place a label on the container clearly stating the contents.
Safety First!
The ESC is not responsible for damage caused by faulty packaging.
For your safety and to make the collection of materials less costly and more efficient, if you have a product that is still usable, consider giving it to someone who can use it.
Do not transport chemicals in the passenger compartment of your vehicle; put them in the trunk.
Before moving or transporting certain chemicals (especially those not typically used in the average household), it is helpful to search online for their chemical nature. Simply shaking, agitating or exposing to heat could cause an explosion. Picric Acid which is a dangerous explosive and toxic chemical (especially dangerous in crystal form) can be found in some homes and garages. This type of commercial grade chemical should only be handled by highly trained chemical waste companies. The ESC will not accept chemicals of this nature. Remember to be safe... for yourself and for your loved ones.
Every Friday from 9 am – 12 pm, household chemicals and paint that were brought to the ESC for disposal, but appear to be in good condition are made available for citizen reuse. Citizens may take away these items at no charge. A signed liability waiver will be required before removing materials from the site. There is a limit of six (6) chemical items and a cart load of paint per week.
This service is only available at the ESC South location.
ReStore (Craft Items, Books, Post Consumer & Industrial Scrap)
The ReStore, which acts as a book swap, a recycling information library, as well as a repository for craft items and post consumer and post industrial scrap (useful for art projects), is now located at the ESC- South. Items can be dropped off at Westpark and the ESCs during normal service times. Items can be taken away from 9am – 12 noon every Friday during the Reuse Chemical Take-Away.
This service only available at the ESC South location.
Frequently Asked Questions
Q: Do I need to bring identification?
A: Yes, a recent water bill must be shown as proof of residency.

Q: Does it cost to drop off my household chemicals?
A: No, it is a free service for residents of the city of Houston.

Q: Do I have to unload my household hazardous waste at the ESC?
A: No, the ESC staff will unload them for you. You never have to get out of your vehicle.

Q: Can I bring chemical waste from my business?
A: No, only household chemicals are accepted.

Q: Will you make presentations to my school or my civic association?
A: Sure! For an educational presentation and a tour of the ESC please call 832-393-7766. The ESC's auditorium will hold approximately 40 people.
Houston-Area Depository and Recycling Locations
Neighborhood Depository/Recycling Centers
Neighborhood Recycling Drop-off Locations
Environmental Service Center (ESC) Locations
Disposal Links
Proper disposal of materials is key to a healthy, clean environment. Visit each link for additional information.
Anti-Freeze || Batteries || Fluorescent Lights || Lawn/Garden Chemicals || Medical Waste
Mercury || Paint || Pharmaceuticals || Used Oil