>
Municipal Courts
> Staff
Municipal Courts
Director and Presiding Judge, J. Elaine Marshall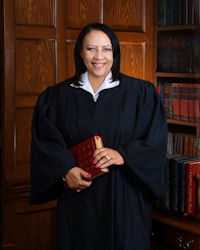 I am truly humbled to lead the Municipal Courts Department, which is comprised of a remarkable judicial and administrative staff. At our Courts, we strive to ensure that justice is administered fairly to all, and that when citizens enter our doors, they encounter our fantastic customer service.
Background:
Judge Marshall was appointed to serve as Director and Presiding Judge for the Municipal Courts Department on December 7, 2016, by Mayor Sylvester Turner. Prior to this appointment, Judge Marshall has served the City of Houston since 1987, first as a full-time Judge, then as the Administrative Judge, and next as the Associate Presiding Judge. One of the most rewarding experiences for Judge Marshall has been her revision of the Teen Court Program which when started had approximately 15 members, and has grown to over 90 participating students. Prior to joining the Municipal Courts Judicial Staff, Judge Marshall was an Assistant District Attorney for Harris County for 8 years and assisted in developing the office's Child Abuse Section.
Judge Marshall was also an Adjunct Professor of Law at Texas Southern University, Thurgood Marshall School of Law.
She received her Juris Doctorate degree from the University of Texas School of Law in Austin, Texas. She earned her Bachelors of Arts degree from the University of Notre Dame in Psychology.