>
General Services Department
>
Real Estate, Design and Construction Division
> Doing Business with the City
General Services Department
Real Estate, Design and Construction Division - Doing Business With the City
For More Information
General Services Department
Design & Construction Division
City Hall Annex—2nd Floor
900 Bagby / Houston, TX 77002
Richard Vella
Chief of Design & Construction
Phone: 832.393.8065
Email: richard.vella@houstontx.gov
The General Services is responsible for planning, designing, and constructing projects. Projects include new construction, restorations, and renovations.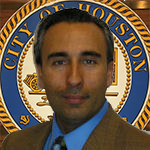 RICHARD A. VELLA
Assistant Director /Chief of Design & Construction Division
Richard Vella holds a Bachelor of Architecture from Ryerson University at Toronto and a Master of Architecture from the University of Houston. Mr. Vella has worked for various other city departments in his 21 plus years, including Public Works and Engineering, Health and Human Services Department and currently in the General Services Department. During his tenure, Mr. Vella has managed numerous design and construction projects totaling in excess of $1 Billion dollars.
As Chief of Design and Construction, Mr. Vella is responsible for overseeing the design and construction of city facilities serving Houston's citizens such as police stations, fire stations, libraries, parks and recreation centers, health clinics and multi-service centers, municipal courts, recycling centers and waste depositories, and fleet maintenance facilities.