>
Houston Information Technology Services
> Message from the CIO
Houston Information Technology Services
Message from the CIO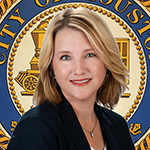 The City of Houston is a diverse and trendy City filled with opportunity for all who live and work within it. Houston is known as a City of job creation and home to at least 26 Fortune 500 companies. Our cost of living is low compared to other parts of the country, which keeps us growing at a very fast pace. As Houston continues to thrive, the list of services provided by the City to our citizens increases. Being the Chief Information Officer for the City provides an opportunity for my team to provide a level of service to City departments and citizens that is unparalleled. The Houston Information Technology Services (HITS) Department is made up of talented men and women who are up to the task of serving our customers with an outstanding level of service and with the goal of presenting IT services in a way where there is transparency and ease of use in mind.
The Houston Information Technology Services (HITS) department provides enterprise IT services for the City of Houston. These services include voice and network, cyber-security, email and communication platforms and shared enterprise applications that are used by all City employees.HITS is comprised of five separate divisions that provide technical services and support. The Project Management Office, Enterprise Applications Services, Enterprise Infrastructure Services, Enterprise Cyber-Security and Radio Communication Services all provide a professional approach to our customers in offering innovative solutions, all while keeping customer service at the forefront of what we do.
HITS approaches all solutions by evaluating what the short and long term goals are of the customer and then seeks to find the most optimal solution. Our portfolio contains a hybrid approach with both cloud and on-premise solutions. Using a hybrid model allows us to offer solutions that are quickly and easily deployed while keeping cost efficiency in mind. And this fits into our overall goal of providing outstanding service with a level of responsiveness that keeps our customers coming back to us, in trust for their future needs.
HITS has documented success in providing project and operational services that are delivered on-time, within budget and always with customer service in mind. Through the five divisions of HITS, we provide comprehensive, enterprise level services throughout the City. Opportunities to be good stewards of the Earth by decreasing utility needs, limiting our carbon footprint, and reusing or recycling end-of-life electronics abound. HITS is constantly seeking opportunities to decrease costs while improving services for all customers. We are continuously searching for ways to use innovation to provide the best quality of service to our internal departments and to our citizens.
Our City deserves no less.
Lisa Kent
CIO / Director
Houston Information Technology Services (HITS)