>
Police
>
POLICE Department
Mounted Patrol - Donations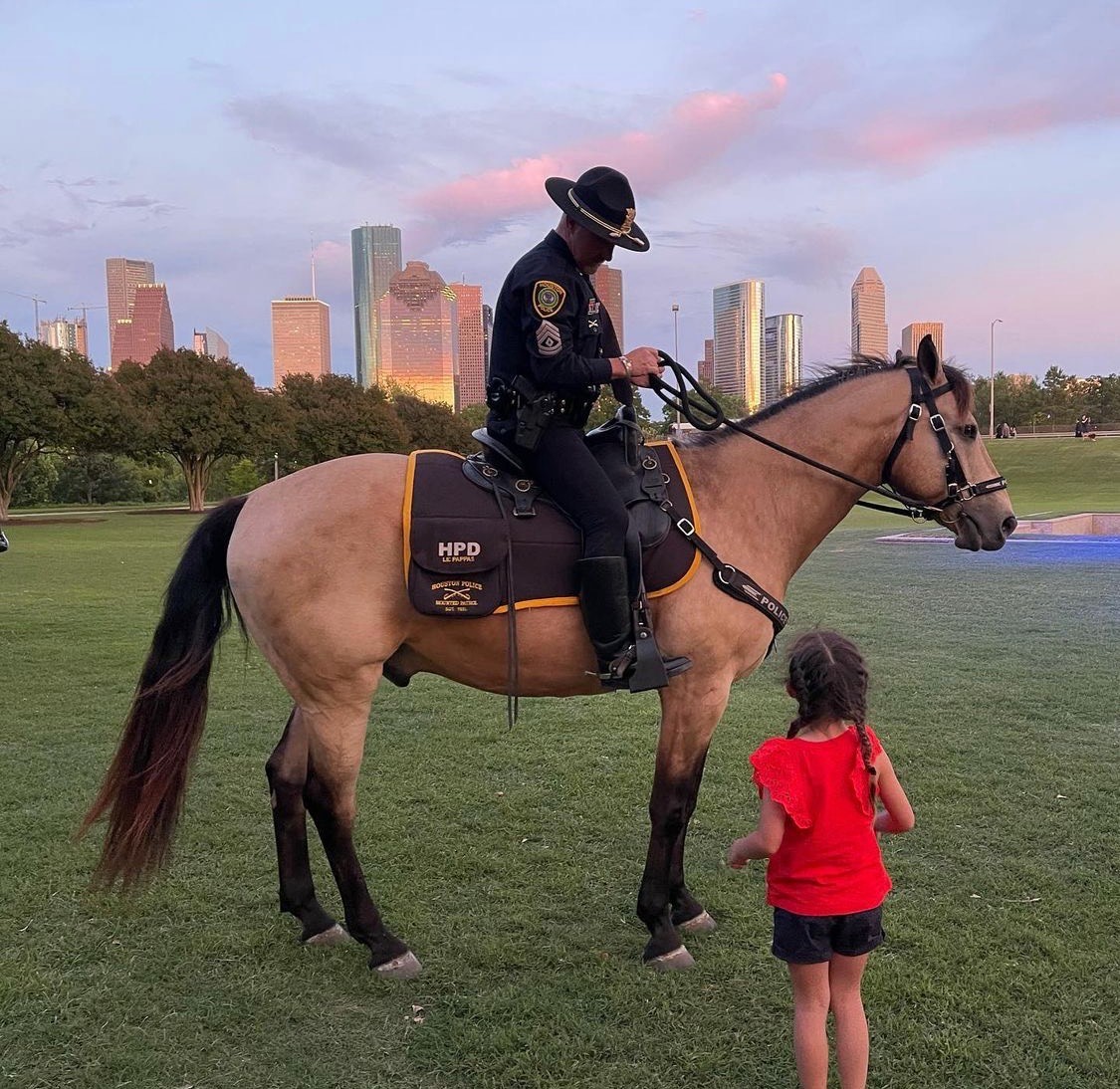 HOW AND WHAT CAN BE DONATED
The Mounted Patrol is in constant need of large and small ticket items related to the care of our horses as
well as the day to day operation of the facility. The unit accepts horse, monetary, and supply/equipment
gifts and donations. Specific donations may include money, horses, and specialized equipment or supplies
which may be brand specific or meet a distinctive need. General donations are less specialized in nature
but are important to the day to day operation of our facility. We have found that brand name items or products
are more durable and hold up better with the day to day usage required.
MONETARY DONATIONS:
The Mounted Patrol unit is NOT allowed to directly accept personal checks or cash. The contribution must be made to the Houston Police Foundation, www.houstonpolicefoundation.org. Please designate the funds
to Mounted Patrol. These funds are received and administered by the Foundation for the benefit of the
Mounted unit and the citizens of Houston. For example, it may be used to purchase equipment and supplies
or provide additional equine training.

Should you wish to drop off or mail any monetary donation to the Mounted Facility we will ensure that it
is forwarded expeditiously to the Foundation. Our address is:

Houston Police Department Mounted Patrol
5005 Little York Road
Houston, Texas 77016-2547
832-394-0399


HORSE DONATIONS:

Mounted Patrol accepts horse donations from private citizens as well as corporate cash donations
specifically for the purchase of a horse. The process is relatively simple, but has specific requirements:


The horse must be a minimum of 15.2 hands and two (2) to ten (10) years of age.



The horse must pass a field evaluation conducted by a mounted training officer. It must indicate a calm disposition. The horse will then be accepted with the stipulation that the horse pass a vet check and a ninety (90) day training evaluation at the Mounted facility. The horse will then be gradually exposed to obstacles, fire works, crowd control, and eventually the Houston downtown business district.



If the horse passes the evaluation he/she will be accepted and becomes a member of the Houston Police Department Mounted Patrol.



The final step is to assign the mount to a rider for daily patrol.


GENERAL DONATIONS:
These donations, as a rule, involve the day to day operation of the barn and care of our police mounts. These items, though varying in cost, are essential to the overall Mounted Patrol operation on a daily basis.
The list of items below are currently needed:
TRANSPORTATION
Heavy Duty Super Cab Diesel Truck
Horse Trailer-4 or 8 horse
Floor Mats for Truck Cabs
Rechargeable Impact Wrench
Portable Water Tank with Spigot
TACK EQUIPMENT
Tucker brand Saddle
Dress Blanket
Orthopedic Riding Pad
Valhoma Nylon Bridle/Halter Combo
Nylon Halter
Biothane Bridle/Halter Combo
Neoprene Breast Collar
Neoprene Girth Strap
Saddle Name Plate
Navaho Saddle Blanket
Korsteel Full Cheek Egg Butt Snaffle Bit-5", 5.5"and 6" mouthpiece
Klaus Balkenhol Smooth Rowel Spur
Korsteel POW Spurs
Horse Riot Gear-Plastic Eye Visor/Nose Guard
Reflective Leg Wrap
HOOF TRIMMING MAINTENANCE EQUIPMENT
Old Mac G2 Hoof Boots
Hoof Rasp-12" & 14" Length
Rasp Handle
Trimming Knife-Left & Right Hand
Hoof Knife Sharpener
Hoof Nipper-12" & 14" Length
Half Round Nipper-12" Length
Hoof Trimming Gloves
Hoof Jack Hoof Stand
Farrier Apron
HORSE MEDICAL CARE/MAINTENANCE
Shapley's MTG Allergy Treatment
Cut N Heal wound Ointment
Nitrofurizone Ointment
Furall Wound Spray
SWAT Wound Fly Repellent Ointment
Derma Gel Wound Treatment
Absorbine Liniment
Absorbine Hoof Thrush Remedy
Isopropyl Alcohol
Electro Dex Electrolyte Supplement
Farrier's Formula Supplement
Ice Boots
Apple Cider Vinegar
3M Vet Wrap
HORSE GROOMING SUPPLIES
Medicated Shampoo
Whitening Shampoo
Orvus Shampoo
Citronella Shampoo
Absorbine Show Sheen Conditioner
Grooma Curry Comb-Large Knobs
Oster Mane & Tail Comb
Oster Mane & Tail Brush
Grooming Brushes-Synthetic
Sweat Scraper
Hoof Pick with Brush
Large Natural Sponge
Oster Rechargeable Clipper
Plastic Spray Bottles
Reversible Shed Ring
BARN MAINTENANCE SUPPLIES
Barn Fly/Mosquito Misting System
Concentrate-Fly/Mosquito Repellent for misting system
Fly Traps
Mosquito Dunks
Farnum Mosquito Halt
Spaulding Fly Predators
Farm Cart
Aluminum Scoop
Future Fork
Pre-Vent Horse Feeder
Flat Side Water Bucket
Hay Grazer-Whiteman Enterprise
Barn Stall Signs
Bleach
Ammonia
440 Fence Company-Rails, Rail Connector, and Pole Cap
Pelleted Bedding
Heavy Duty Push Brooms
Corn Brooms
Mounting Steps
TRAINING EQUIPMENT
Cavaletti
72" Ball
Teeter Board
Bridge

Houston Police Department Mounted Patrol Facility
5005 Little York Rd. Houston,Tx. 77016-2547
Main Telephone Number: 832-394-0399
Primary Fax Number: 832-394-0398