>
Police
>
POLICE Department
Mounted Patrol - Frequently Asked Questions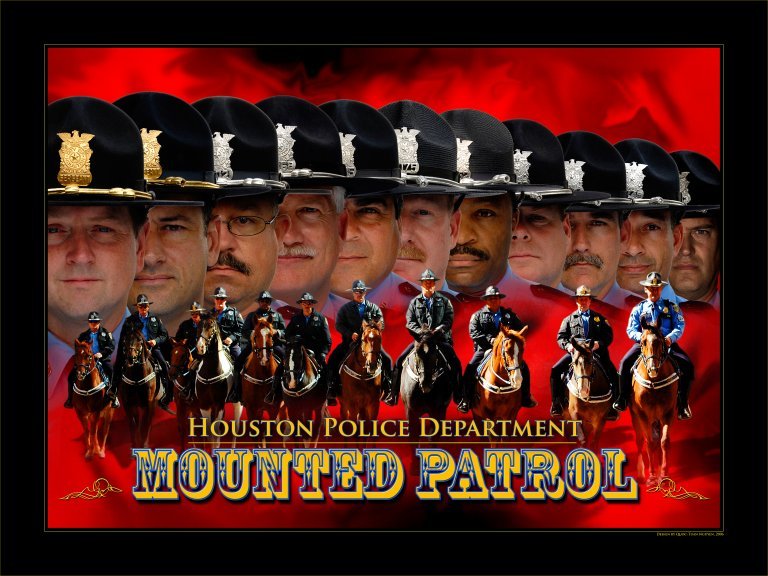 Can I visit the facility?
YES! In fact, we encourage people to visit our stables. You may bring apples, carrots, and/or peppermint candy to feed the horses. There are a few rules that need to be followed for the safety of all and you must check in at the lobby of the administrative building and sign our visitor log before entering the barn area. For more information see our Visitors page.

How can I schedule a demonstration?
To schedule an onsite or offsite demontration, please email: HPDMounted@houstonpolice.org
How can I make a monetary donation?
Visit the Houston Police Foundation web site at www.houstonpolicefoundation.org then click on DONATE and complete the information. Please ensure that you specify your donation for Mounted Patrol. Should you have a check or cash in hand you may come by the mounted facility and drop off your donation. We will ensure that your donation reaches the Foundation in a timely manner. Should you require additional information, please contact us at 832-394-0399. We thank you for your kindness and generosity.

How do I donate a horse?
If you would like to donate a horse to the Mounted Patrol Unit, please contact Sgt. Jeff Dobrucki at 832-394-0376. Any horse under consideration must meet minimum physical standards and pass a field evaluation, a vet check, and a strenuous 90 day training evaluation. If the horse passes each one of these phases, it is then accepted into the Mounted Patrol.

How do I become a volunteer at the Mounted Patrol Facility?
Go to the Houston Police Department web site at www.houstonpolice.org. Then go to Join Us, a drop down screen appears and click Volunteers, then down load the Police VIP Application. Please check mark Item #10 and write/type in Mounted Patrol. Once completed the application must be either hand delivered or mailed to:
Houston Police Department
Public Affairs-Volunteer Initiatives Program
1200 Travis, 21st Floor
Houston, Texas 77002

If you have any questions contact Public Affairs at 713-308-3200 and ask for a VIP representative. Thank you for your volunteer spirit!

Houston Police Department Mounted Patrol Facility
5005 Little York Rd. Houston, Tx. 77016-2547
Main Telephone Number: 832-394-0399
Primary Fax Number: 832-394-0398