>
About Houston
>
Exploring Houston
> Houston Sports Hall of Fame
About Houston
Exploring Houston - Houston Sports Hall of Fame
From the February 15, 2018 press release from the Houston Sports Authority
"This inaugural class, Hakeem Olajuwon, Earl Campbell and Nolan Ryan are easily three of the most revered athletes ever to play in their respective sports and we couldn't be prouder to honor them as our first inductees. "
The Hall of Fame will be located downtown at Green Street and will be built in phases. The first phase of the project features a Walk of Fame stretching from the House of Blues through the Green Street Promenade. Groundbreaking on that phase will be this summer.
Future phases call for multiple state-of-the-art LED video displays and interactive experiences. Plans call for the project to culminate in the Hall of Fame, which would be housed in an actual interior space.
Renowned Houston sports artist Opie Otterstad's 8-foot paintings of Campbell, Olajuwon and Ryan , which were unveiled at the Houston Sports Awards, will be the first exhibit to hang in the Hall of Fame.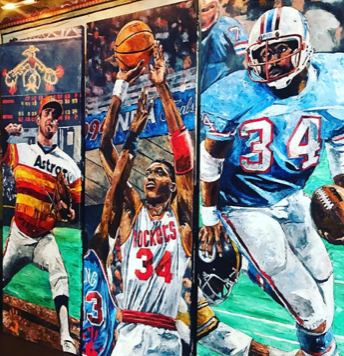 About the Houston Sports Authority
The Harris County-Houston Sports Authority maintains the facilities and services the debt of the world-class, professional sports venues it was created to build. To support this primary mission, the HCHSA serves as a leading proponent for attracting sporting events to Houston and for promoting the city as a home for sports-related activities, to ultimately enhance Houston's economic development and bring better quality of life for its residents. The HCHSA also created the annual Houston Sports Awards to honor the area's outstanding athletes.