>
About Houston
>
Exploring Houston
> Shopping
About Houston
Exploring Houston - Shopping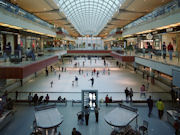 Houstonians love to shop and they have many places to indulge in the City's unofficial pastime. From bargain basement shops to upscale stores specializing in hard-to-find items, Houston is a shopper's dream.
And every Houstonian knows about the Galleria, legendary for its variety of shops and international ambiance.
Houston shopping could be an Olympic event, so prepare to be challenged. At big-name department stores, savvy little boutiques, discount retailers – in virtually every kind of shop imaginable – shoppers can have that blissful experience of finding exactly what they want.