>
City Council
>
At-Large Position 5
> Houston Permitting Center Improvements
At-Large Position 5
Houston Permitting Center Improvements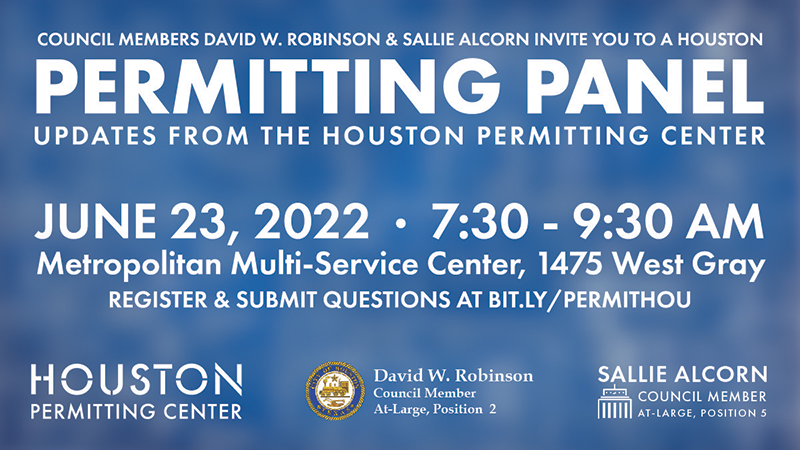 I continue to strongly advocate for streamlined processes, improved customer service, and greater efficiency at the Houston Permitting Center (HPC). In July, my colleague Council Member David Robinson and I hosted the city's first-ever Permitting Panel. More than 100 stakeholders attended the breakfast to hear from HPC leadership and members of the HPC advisory board. The program began with an overview of the latest numbers and news at HPC and concluded with a robust question and answer section. To review the presentation with HPC Director Chris Butler's commentary, click here.
I continue to attend and participate in the HPC advisory board monthly meetings. This group of industry stakeholders have been involved with the implementation of several recommendations at HPC over the last year including:
Redesigning prerequisite checklists, applications, and adding new resources for developers and homeowners
Improving communication efforts including redesigning website information, online newsletter enhancements, and creating how-to videos
Expanding a live chat service platform and creating an AskHPC help line for same day response
Assigning a single point of contact (plan reviewer) for projects
Adding two staff augmentation contracts expediting over 4,400 plans

The Bureau Veritas North America contract was approved by council in March to assist with a 30 expedited plan reviews a day for both building code enforcement (BCE) and storm. Since implementation of that contract in April 2,848 plans have been routed through BVNA, helping BCE reduce review times.
Isani Consultants has been contracted to provide six structural plan analysts to assist with commercial plan reviews. This contract has helped move 1,554 commercial projects forward reducing the current backlog.
City council appropriated $10 million for the implementation of HouPermits, a new permitting system to streamline and enhance the permitting and inspection process. HouPermits will serve as a one-stop shop for permitting and inspection information, including ARA and HFD Life Safety Bureau permits and inspections, as well as other areas of HPC not currently using the legacy system. Online forms will replace emailed forms and other manual processes. The project is currently in the design phase. More details may be found here.
In July 2022, HPC launched the Houston Permitting Center Customer Experience Team. This team will be dedicated to supporting the customer experience by triaging all customer project issues, connecting customers to the right subject matter experts, and working to provide customers with a same-day response to their questions. You can reach this team through the HPC's webpage, Live Chat, or emailing. For project-specific questions, please have your project number or site address ready. You may also call 832-394-HELP (4357).
In 2023, the HPC advisory board will be focused on developing strategies to recruit and retain employees and mastering their "approved in two" approach. The "approved in two" goal pushes HPC staff to streamline processes, improve quality reviews, and move projects through the permitting process in two or fewer plan submissions and/or inspections. Meanwhile, HPC is down 85 employees with double the average number of plans, putting a burden on our existing staff. I plan to advocate in the coming year to improve salaries at HPC so we can better recruit and retain good employees. Also, Human Resources processes must be shortened; it currently takes way too long to hire people averaging six months. HPC will also allocate $375K (from my past budget amendments) to provide training for HPC managers and for technology to better track communications between applicants and HPC staff.
I encourage you to register for
HPC's newsletter
 to receive notice of announcements and updates as they become available. I also send out information related to permitting. Please email
atlarge5@houstontx.gov
to be added to my permitting distribution list.