>
City Council
>
At-Large Position 5
> Staff of At-Large Position 5
At-Large Position 5
Staff of At-Large Position 5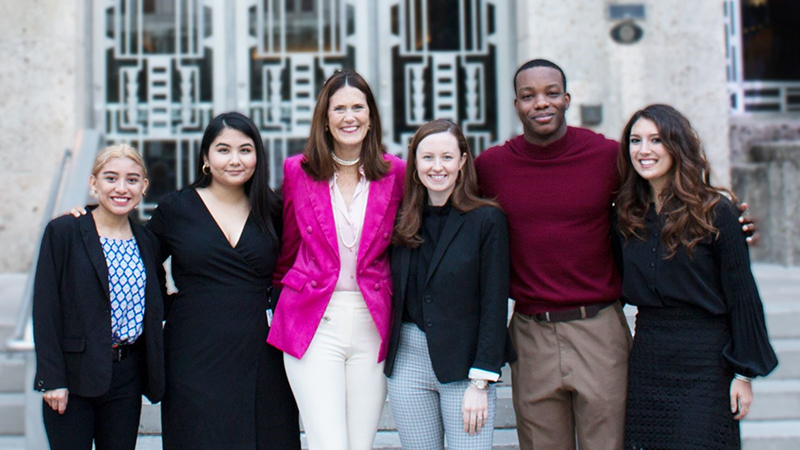 Jordan McGinty, Chief of Staff
Jordan graduated from the University of Texas at Austin in 2016 with a degree in Radio, Television and Film. Following graduation, she began working for now Mayor Pro Tem Dave Martin. While working in the District E office, she worked closely in the Clear Lake and South Belt-Ellington area for 3 and a half years while assisting in communications. Jordan joins the At-Large 5 team eager and ready to learn more about the City of Houston as a whole. She will be married in March 2020 and loves spending time on the trails of Buffalo Bayou and being outside.
Julia Ossemi-Seied, Deputy Chief of Staff & Communications
Julia graduated from the University of Houston in 2017 with a degree in Political Science. During her senior year she worked part-time in former Vice Mayor Pro-Tem Jerry Davis' office, and accepted a full-time position as the communications director after graduation. While working in the District B office, Julia focused heavily on the educational events and initiatives VMPT Davis spearheaded. When she has free time, Julia enjoys testing new recipes and exploring her neighborhood on foot.
Hannah Cobb, Public Affairs Liaison
Hannah is a recent graduate from the University of Texas at Austin with a Bachelor's Degree in Government. Prior to her graduation, she interned for the City of Houston for two summers, serving both as an intern for Mayor Pro Tem Ellen Cohen and an intern for the Mayor's office of Trade and International Affairs. In Austin, Hannah was a field organizer on the Sheryl Cole campaign and served as a casework intern for Congressman Lloyd Doggett. Hannah's passions include cinema visiting and Netflix binging.
Mike Watkins Jr., Community Outreach Liaison
Mike is a recent graduate from the University of Houston. He began his career in government interning for Senator Whitmire through the University of Houston's Civic Houston Internship Program (CHIP). Mike is very involved with the community as a minister at Faith Tabernacle Apostolic Ministries and enjoys keeping up with the Rockets. Mike plans to attend law school in the near future.
Jannet Suset Jiménez, Community Outreach Aide
Jannet is a current student at the University of St. Thomas studying government. A Houston native, she brings her community experience with her to the At-Large 5 office.