>
City Council
>
District I
> About Robert Gallegos
District I
About Robert Gallegos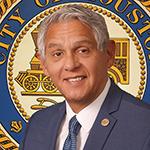 Robert Gallegos is a native Houstonian and lifelong resident of District I. He was elected in 2013 and represents the council district that encompasses downtown, EaDo, Clinton Park, parts of northeast Houston, the greater East End and the Houston Ship Channel, as well as communities along I-45 south from downtown to Hobby Airport.
Robert was born at Parkview Hospital on 75th and Harrisburg and was raised in Magnolia Park. He is the son of working-class parents and proud labor union family. Before being elected, Robert spent over 30 years volunteering and working in the community he now represents on the city council. He was the founder and first president of the Eastwood/Lawndale Super Neighborhood Council and was president of his neighborhood's civic club, Houston Country Club Place, for over 15 years.
As a councilmember, Robert is a champion for all District I residents, working families, senior citizens, people with disabilities, as well as non-discrimination protections, and issues of importance to immigrant communities.
He is an advocate for green spaces and has committed funds to improve neighborhood parks, sports fields, and built new dog parks, hike/bike trails, and launching points for canoes and kayaks. In 2015, he helped secure long-term partnerships and funding to restore historic Gus Wortham Park Golf Course and create Houston's first Botanic Garden in District I.
Robert's passion for enhancing the quality of life in our community is not only demonstrated by his advocacy and work to enhance our green spaces, but also by his tireless efforts to develop solutions to address neighborhood issues and public safety concerns.
He has worked with police on initiatives to crack down on nuisances and illegal activity at bars and cantinas, provided funding to install traffic calming devices in neighborhoods, and deployed surveillance cameras in problem areas to prevent illegal dumping. Robert has also implemented a multi-approach solution to reduce the number of stray dogs on our streets and launched a pilot program that has removed nearly 3,000 abandoned shopping carts from public spaces.
He has worked with local artists to commission the painting of over a dozen neighborhood-specific mini-murals, as well large murals at the Harrisburg overpass, Peavy Street, and Cullen Underpass, that showcase the community's diverse and rich history.
Councilman Gallegos serves as Chair of the Council Committee on Quality of Life and Vice Chair of the Economic Development Committee