>
Office of Business Opportunity
> About the Director
Office of Business Opportunity
About the Director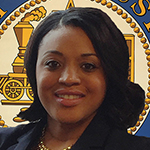 Marsha E. Murray, Esq., was appointed by Mayor Sylvester Turner to serve as the Interim Director for the City of Houston's Office of Business Opportunity (OBO) Department in September 2019. Prior to assuming her current role, Marsha served as the Chief Administrative Officer for the City's Legal Department, as well as the Deputy Director for OBO. As Chief Administrative Officer for the Legal Department, she was responsible for strategically managing its operational and administrative needs to enhance its delivery of quality legal services. As Deputy Director in OBO, she was integral to the organization's growth and evolution having led comprehensive operational changes and policy updates in the department. Recognizing a need in Houston's small business community, she spearheaded the expansion of OBO's services to include facilitating the provision of free legal assistance and guidance on doing business globally. For her work in OBO on behalf of Houston's business community, in February 2019, she received OBO's Advisory Board Chairman's Advocate of the Year Award.
Interim Director Murray's commitment to public service spans almost two decades. Prior to joining the City of Houston, she served as legal counsel to New York City's government for 10 years. During that time, she worked to ensure that the most vulnerable New Yorkers had access to social services and led programs that served to maximize housing options for citizens in a perpetually challenging housing market.
Interim Director Murray has a Bachelor of Arts Degree in Political Science and Spanish from Colgate University and a Law Degree from Villanova University School of Law. She serves on the board of Zonta Club of Houston, a global organization of professionals empowering women worldwide through service and advocacy and is a graduate of the Center for Houston's Future Business/Civic Leadership Forum. Interim Director Murray has served on national and international panels advocating for the continued support and development of small businesses. Her advocacy for businesses to thrive globally has led her to earn a National Association of Small Business International Trade Educators Certified Global Business Professional designation.