>
Planning
>
North Houston Highway Improvement Project (NHHIP)
> Overview
Overview
The North Houston Highway Improvement Project (NHHIP) is a planned reconstruction of I-45 from Beltway 8 to Downtown. Texas Department of Transportation (TxDOT) proposes improvements to the facility to manage congestion, enhance safety, expand multi-modal opportunities, accommodate future demand and improve operational efficiency. TxDOT conducted a public hearing in May 2017 to solicit comments on the Federally-required Draft Environmental Impact Statement (EIS).
TxDOT's project is planned to be one of the biggest infrastructure projects that Houston will see in a generation. It is important that, if funded, it meets the needs of residents and businesses along the corridor. We are listening to the people who live, work, go to school and play along the corridor. Your voices are very important.
That's why Mayor Turner has initiated a public process, alongside TxDOT's work, to engage stakeholders to address prominent concerns and identify opportunities for improvement. Consensus on changes must be complete prior to the Record of Decision, when final design can begin on the project.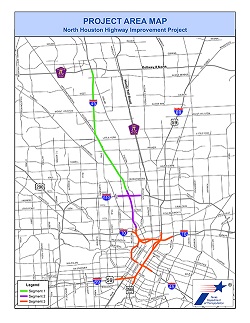 ---
Mayor's Steering Committee & Public Process
To oversee this process, Mayor Turner established a Steering Committee comprised of civic leaders in 2017. This group is convening meetings with agency partners and neighborhood groups throughout the areas adjacent to future freeway alignments. This process began with Segment 3, which is funded for construction. In April 2019, the Steering Committee initiated a similar process for Segments 1 and 2.