>
Planning & Development
>
News / Public Information
> Press Release
Planning & Development
Press Release
City Council Approves 15 New Historic Landmark Designations
August 30, 2023 -- City Council today approved the designation of 15 historic properties including 11 Protected Landmarks, three Landmarks and one Historic Archeological Site. The properties span four Council Districts across the city.
The historical properties were presented to the Houston Archaeological and Historical Commission on separate meeting dates in 2022 and 2023. The Commission unanimously recommended approval of all designations and forwarded them to City Council for consideration. Following legal notification requirements, a public hearing was held on August 2.
Protected Landmarks and landmarks are historic properties that have been officially recognized by the City of Houston for their outstanding historical, cultural, or architectural significance. These designations are initiated by the property owner. A landmark designation protects resources in the following ways: any building design, alterations, additions, and maintenance to the building, structure, or site must follow the City of Houston Historic Preservation Ordinance. The designation does not provide significant protection from demolition or an inappropriate alteration. A Protected Landmark designation provides significant protection against demolition in perpetuity and are eligible to be nominated as Significant Buildings. Read more about historical designations.
Below is a breakdown recent additions to the City of Houston's Landmark inventory, based on location. Click on each landmark to view the full designation report.
Council District C
Eight Protected Landmarks:
(1) Saint Mary's Missionary Baptist Church at 4602 Eli St.
(2) The Salzman House at 3615 N. Braeswood Blvd.
(3) The John C. Penn House at 428 Hawthorne St.
(4) The Earl and Bertha Carpenter House at 5330 Mandell St.
(5) Christian Home Missionary Baptist Church at 3432 Rosalie St.
(6) Three Oaks, Mr. & Mrs. H. Arch. Spradley House at 2201 Albans Rd.
(7) The Goodman House at 426 Westmoreland St.
One Protected Archeological site:
(8) Olivewood Cemetery at 1300 Court St.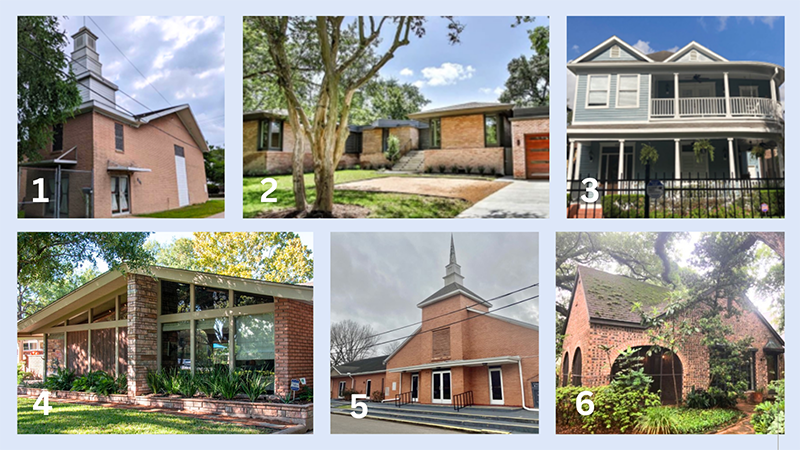 Council District D
Two Protected Landmarks:
(9) The Spencer and Lela Robinson House at 3019 Gray St.
(10) The Wilbanks-Hannah House at 2506 Rosedale St.
Council District G
One Landmark:
(11) The Mr. & Mrs. Ronald Ellsworth Lee House at 2153 Pelham Dr.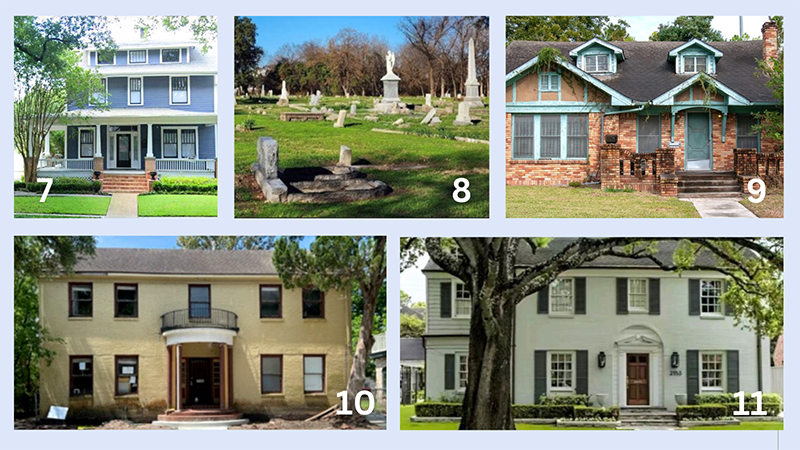 Council District H
Two Landmarks:
(12) The Reiler-Fraga House at 15 Altic St.
(13) The Thompson-Brown House at 215 E. 30th St.
Two Protected Landmarks
(14) The house at 1134 E. 14th St.
(15) The Leonel J. Castillo Community Center at 2101 South St.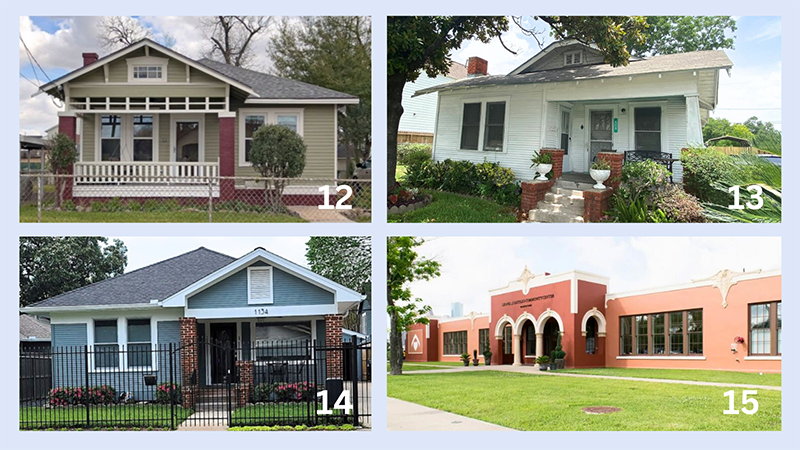 "The designation of each one of these properties is a cause for celebration. It signals that these property owners understand and value our history, and they have taken action to ensure that these buildings will remain part of the Houston's historical fabric," said Historic Preservation Officer Roman McAllen.
"Designating your property as a protected landmark is one way for property owners to leave their mark on our City. If you own a historic property, please reach out to our Preservation staff who can walk you through the eligibility requirements, potential tax incentives and application process," McAllen said.
Learn more on the Historic Preservation page. Contact the Preservation staff at historicpreservation@houstontx.gov. Browse existing historic landmarks near you on this interactive web map.