>
Police
> Crime Statistics > Monthly Crime Data by Street and Police Beat
POLICE Department
Monthly Crime Data by Street and Police Beat
MONTHLY NIBRS CRIME METADATA BY STREET /  NEIGHBORHOOD (POLICE BEAT)
The information contained in these reports is a monthly breakdown of Group "A" and Group "B" Offenses for which HPD wrote police reports.  The data is broken down by police districts and beats, and displayed by street name and block range. More information about Group "A" and Group "B" Offenses can be found within the FBI's A Guide to Understanding NIBRS.
CRIME STATISTICS IN MICROSOFT EXCEL SPREADSHEET

The NIBRS Data by street is updated monthly in one aggregated data file and presented in a Microsoft Excel spreadsheet. The files should be downloaded and saved to your computer for viewing, searching, etc. You must have Microsoft Excel installed on your computer to view these files. Each month's stats are posted approximately 1-2 weeks from the end of the month.
In order to obtain the information, you will need to determine which area of the city you wish to research. Here are the steps you need to follow:
Step One
Choose the area of Houston you wish to research from the clickable, graphic map below or from the list.
Step Two
Once you have chosen a general area, you will be presented with a district map and you will need to choose a specific beat. Each beat is described in detail, with general street boundaries and landmarks / neighborhoods, ZIP codes that are within that beat, a detailed map, and a text description of the boundaries of the beat.
Step Three
After choosing the month to view, you will be presented with a table containing the stats for the below crimes for which we wrote police reports in the selected beat and month. The table will show the type of offense, date and time, district and beat, premise* code of the location, block numbers and street name. For privacy reasons, exact addresses are not shown, only the hundred blocks. Each month's statistics are posted by the end of the following month

* premise codes - identify type of location where crime occurred (apartment complex, parking lot, etc) click here for complete list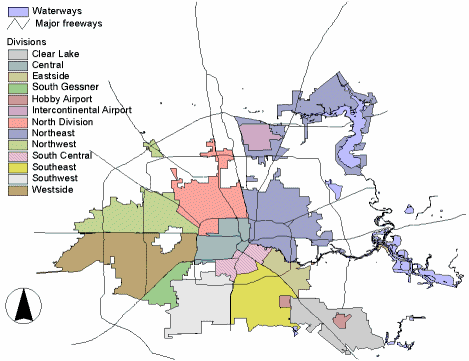 Select an area from the list:
Downtown
Central
North
North Belt
Northeast
Kingwood
Eastside
South Central
Clear Lake
Southeast
South Gessner
Midwest
Southwest
Westside
Northwest
Intercontinental Airport
Hobby Airport

ADDITIONAL RESOURCES
HPD Beat Map (pdf file): Printable document showing HPD beats and districts and locations of HPD stations and storefronts.

HPD stations and storefronts

Notes:
The Houston Police Department does not recommend raw data comparisons be made between police beats. This web site does not provide a comparative analysis of the various beats.
If you plan to print out the crime statistic tables, for best results, choose the "landscape" orientation from the properties menu in your printer dialogue box.
ZIP code boundaries and police beat boundaries do not correspond. ZIP code boundaries may overlap beat boundaries and there may be several beats within several ZIP codes and vice versa. ZIP codes are provided only as a reference.


PLEASE NOTE: In accordance with the national shift in crime data collection and reporting methods, the Houston Police Department has just completed transitioning from UCR to NIBRS. While transitioning to the new method can be somewhat costly, and—because of the greater level of reporting specificity in NIBRS—it can initially appear that an agency has higher levels of crime after switching to NIBRS, the new system will provide more useful statistics, promoting constructive discussion, measured planning, and informed policing.