POLICE Department
Surveillance Video Released in October 2015 Double Shooting at 7398 Irvington
April 24, 2017
- Houston police are asking for the public's help in identifying a suspect wanted in a fatal shooting at 7398 Irvington about 2:55 p.m. on October 10, 2015.
The suspect is described only as a male wearing a white T-shirt and dark pants.  He was last seen driving a black 4-door full-size pickup truck with a silver truck box in the bed. 
A photos of the pickup truck are attached to this news release.  Links to the surveillance video are included below.
HPD Homicide Division Sergeants M. Brady and J. Burton reported:
Surveillance video shows an altercation begin between a group of males in the parking lot of the El Reventon Sports Bar and Night Club at the above address.  Two males, one of them Steven Skero, 33, then began fighting before a bystander intervened.  The unidentified shooter was present at the beginning of the altercation but then disappeared from the video, presumably to retrieve a gun.  Following the end of the fight, he can be seen returning, whereupon he began firing multiple shots at Skero, who fled a short distance before collapsing.
The shooter then handed the gun to Hugo De La Cruz, 31, who then ran out of camera range.  A security guard reported he saw De La Cruz firing the gun and when ordered to drop the weapon he instead pointed it at the guard.  The guard, fearing for his safety and that of innocent bystanders, fired his own weapon one time, striking De La Cruz.
HPD patrol officers and Houston Fire Department paramedics were then called to the scene.  Paramedics pronounced both Skero and De La Cruz deceased. 
De La Cruz's weapon was recovered at the scene.  The shooting by the security guard was referred to a Harris County grand jury.
Separate surveillance video shows the unidentified shooter in the black pickup truck described above apparently waiting for De La Cruz to return.  After a few minutes, he then fled the scene.
An edited video of the shooting can be viewed on the HPD YouTube channel at: https://www.youtube.com/watch?v=oczMob0KKoQ&feature=youtu.be
A longer version, showing the altercation preceding the shooting, can be viewed at: https://www.youtube.com/watch?v=7VU7TstMcAU&feature=youtu.be
A separate video, showing the shooter waiting for De La Cruz can be viewed at: https://www.youtube.com/watch?v=RG6MiuYWNq4&feature=youtu.be
Anyone with information on the identity of the shooter is urged to contact the HPD Homicide Division at 713-308-3600 or Crime Stoppers at 713-222-TIPS.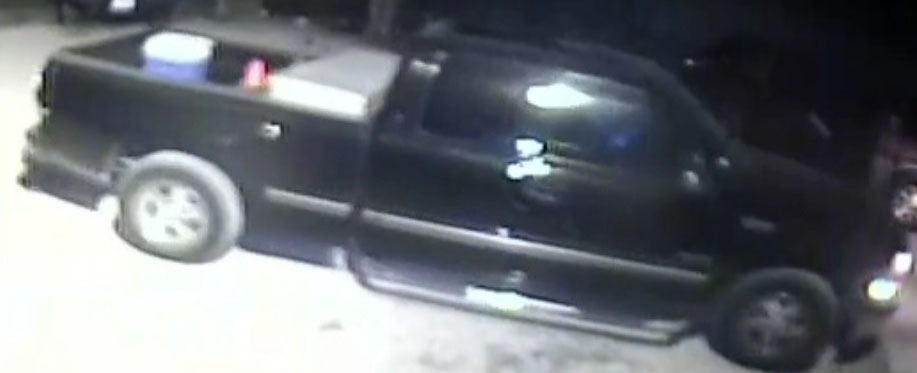 Suspect's Vehicle
KJS/VHS 4-24-17
Inc #130798315
For additional information, please contact the HPD Public Affairs Division at 713-308-3200.