>
Solid Waste Management
> Solid Waste Management Department
Solid Waste Management Department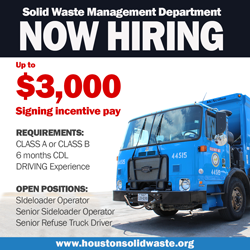 Discover job opportunities through our online application system, which is user- and mobile-friendly. You must complete an online application to be considered for any position.
New applicant? Create an account to apply online. Each applicant must have their own individual email address when setting up an account. Do not share your account with anyone.
If you're a returning applicant, sign in to apply. Current employees can search for promotional opportunities.
If you need special services or accommodations, please call 832-393-0451 or 832-393-0453 for TTY assistance.
For Neogov applicant support, please contact 855-524-5627.
Thank you for your interest in employment with the City of Houston.
OPEN POSITIONS:
SIDELOADER OPERATOR...
This individual will perform physical labor in the collection of household recyclables and refuse from city curbs. Answer citizens' questions regarding proper contents, packing weight, container types, pick-up times and placement of containers. Primary responsibilities will be on the back of the truck. Operate the vehicle on occasion while on the route and while emptying and cleaning the truck at the service center. READ MORE.
SR. SIDELOADER OPERATOR
This individual will function as the primary operator of a collection/yard trimming truck and operate hydraulic controls on refuse truck. Perform pre and post-trip maintenance-related vehicle inspection and operator services; i.e., fluid levels, air pressures, washing, etc. Complete and submit records on check-in time, number of load and tonnage, amount of fuel used, and odometer reading. READ MORE.
SR. REFUSE TRUCK DRIVER
Operates a roll-off, cherry picker (brush/trash loader), rear loader truck or other collection vehicles with hydraulic controls on the truck. Transports materials to and from specified destination; i.e., landfills, neighborhood depository sites, transfer station and resource recovery plants. Performs pre and post-trip maintenance-related vehicle checks and operator services; i.e., fluid levels, air pressures, washing, etc. READ MORE. 
* Preference will be given to applicants with CLASS A CDL and 1 year of verifiable Tractor Trailer experience.
ALL positions require mandatory overtime on scheduled workdays, weekends, holidays, and in response to disaster recovery efforts.
Employee Benefits
Medical Plans offered through Cigna
Dental Plans offered through United Health Care a Dental
Basic and Voluntary Life Insurance
Long Term Disability
Healthcare Flexible Spending Account
FMLA
Vacation & Sick Time - accrues each pay period
Paid Holidays
Retirement and 457 Defined Contribution Retirement Plan provided by Great West Retirement Services
All interested applicants are asked to visit houstontx.gov/careers to submit an employment application.