>
Learning and Development Center
> Learning and Development Center Meet Our Team
Angela Weatherspoon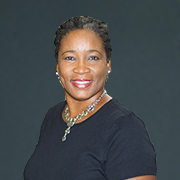 Buyer Business Office Group
Angela serves as the buyer for all of the supplies for the Learning and Development Center (LDC)-the Center for Excellence. It's a complex job that requires juggling vendors, suppliers and employees. She is also tasked with special projects at the LDC, ensuring that purchase orders are filled for big events and tracking supplies for the center.
COH Veteran
Angela is a tenured employee, having worked for the City of Houston in good stead for the last 17 years. She was eventually promoted to an office position where she assisted in the ordering of supplies. Her positive candor and cheerful smile landed her as Human Resources Employee of the Month for February.
Client Service Oriented
Angela believes the most enjoyable part of her job is assisting people. "I love what I do, and if I didn't, I wouldn't be good at it. I thank God that I'm here and I have a good job and good coworkers."
Contact Information: Learning and Development Center | 4501 Leeland Street | Houston, TX 77023 | Phone: 832-395-4900 | Fax: 832-395-4892 | Hours of Operation: Mon-Fri: 6:30 a.m. – 5 p.m.