>
Learning and Development Center
> Learning and Development Center Meet Our Team
Dawn Janis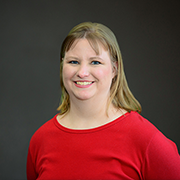 Senior Trainer Learning, Development and Delivery Group
School and Work Experience
Dawn Janis graduated from Stephen F. Austin State University in the fall of 2000 with a bachelor's degree in Interdisciplinary Studies, specializing in Early Childhood Education, Reading, and English. She taught third grade in Pasadena Independent School District while still working at a local Christian bookstore. After an interesting year in the school district, Dawn channeled her strengths into establishing a successful career in the book industry. While she still enjoys working with young children, she prefers to do so at her local church with the children's ministry on Wednesday evening. In the fall of 2004, Dawn enrolled at the University of Houston Clear Lake to begin her studies into her master's degree in the field of Human Resources. She graduated in May of 2007. During her time in graduate school, she began working as a bookkeeper at Mardel, a different Christian bookstore. While she was sad to leave her previous place of employment, she realized that Mardel offered her a better schedule for her school work. After graduating with her Master's in Human Resource Management with an emphasis on Instructional Technology, Dawn was hired with the City of Houston in October of 2007. She was working in the accounting section of the city's water department. While there, she worked to ensure that the accounting representatives received the necessary training to do their jobs. She also was able to develop her skills in several Microsoft products such as Excel and Word. In May of 2015, Dawn left the water department to join the City's HR team as a trainer at the Learning and Development Center. This was what she had longed to do since her first class in her master's degree coursework. At the LDC, Dawn serves as a trainer where she will teach a variety of courses.
Personal life and Hobbies
In the spare time that she has, Dawn enjoys spending time with her best friend, nieces, other family members, reading, or doing something crafty. She is an avid reader and reviews books for a variety of publishers on her blog. She also enjoys scrapbooking and crocheting blankets for loved ones. She is an active member of her church. She also dreams of traveling someday, with Ireland being at the top of the list. Dawn is native to the Houston area having grown up in Pasadena. She is close with her mother and brother. She has one cat, Kiki, who rules the house.
Contact Information: Learning and Development Center | 4501 Leeland Street | Houston, TX 77023 | Phone: 832-395-4900 | Fax: 832-395-4892 | Hours of Operation: Mon-Fri: 6:30 a.m. – 5 p.m.