>
Learning and Development Center
> Learning and Development Center Meet Our Team
Samantha Barnes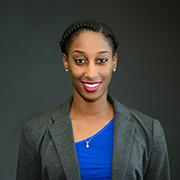 Administrative Specialist, OD & Auxiliary Services Organizational Development Group
Samantha Barnes is an Administrative Specialist at the City of Houston. As a former flight attendant and school instructor with HISD, Samantha gained a level of expertise in administration and assistance. Samantha earned a Bachelor of Science in Sports Management and coming from a NCAA Division-1 athlete, she knows all about coaching a winning team. On the frontlines of service in various industries like the airline business and now public service, she has made it her duty to serve.
Interest and Personal Goals
She is most interested in staying current and interactive in news, sports, music and entertainment. Samantha is on a journey dedicated to learning more about operating a business so that one day she will build an empire that delivers extraordinary product and service.
Contact Information: Learning and Development Center | 4501 Leeland Street | Houston, TX 77023 | Phone: 832-395-4900 | Fax: 832-395-4892 | Hours of Operation: Mon-Fri: 6:30 a.m. – 5 p.m.