>
Learning and Development Center
> Learning and Development Center Meet Our Team
Tony Cross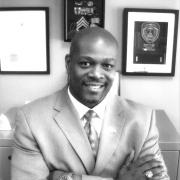 Training Administrator Special Projects - CLO Group
Tony D. Cross, RPL
Retired U.S. Army Senior Drill Sergeant, Sergeant First Class. , Awarded ribbons, Humanitarian Service medal (2) Army Commendation for meritorious duty while in combat operation during Desert Storm and Desert Watch Intrinsic Action- Southeast Asia, Leadership Award-Basic Non-Commissioned Officer School, Leadership Award – 101st Air Assault School
Professional Accomplishment:
Johns Hopkins Medical Institute Protective Service Division; Life Saving Medal, Medal of Valor as well as a Certification of Appreciation from the United States Secret Service.
Texas Commission Law Enforcement Basic Instructor Certificate
Registered Public Safety Leader (RPL) - APCO International
Certified Incident Command Simulation Training –Sam Houston University – LEMIT
Emergency Management Institute certificates, Emergency Program Manager, ICS 100,200 HC, LE, 700,800,300, 400, Active Shooter.
Lean Six Sigma Yellow Belt Certification
Leadership Institute Program Graduate – City of Houston
City of Houston Accreditation Program for Supervisors (CAPS) - Graduate
Contact Information: Learning and Development Center | 4501 Leeland Street | Houston, TX 77023 | Phone: 832-395-4900 | Fax: 832-395-4892 | Hours of Operation: Mon-Fri: 6:30 a.m. – 5 p.m.