Department of Neighborhoods
Press Release
DEPARTMENT OF NEIGHBORHOODS ANNOUNCES COMPLETE COMMUNITIES UNIVERSITY WINTER 2022 SESSION
Online training for emerging community leaders starts March 2
Application Deadline- February 11, 2022
January 14, 2022 -- The Department of Neighborhoods (DON) invites Houston residents to apply for enrollment in the Complete Community University (CCU) online leadership training course. The winter session will run eight-weeks, March 2 to April 20, 2022. Classes will be held on Wednesdays, 6:00 to 8:30 p.m., via Microsoft Teams. The enrollment application deadline is February 11, 2022.
Offered each quarter, the CCU program coaches emerging leaders on civic engagement methods and techniques, cultivates positive relationships between community leaders and the City of Houston, and promotes the participation of residents in civic activities to vitalize neighborhoods.
The course curriculum focuses on leadership development through civic engagement, volunteerism, and voter education. Participants explore how city and county government function and relate to neighborhoods. They also learn how to effectively access City and community-based services and resources.
CCU classes are conducted by DON staff with extensive experience in civic engagement and knowledge of Houston communities.The classes include presentations by subject experts with other City departments and partner organizations.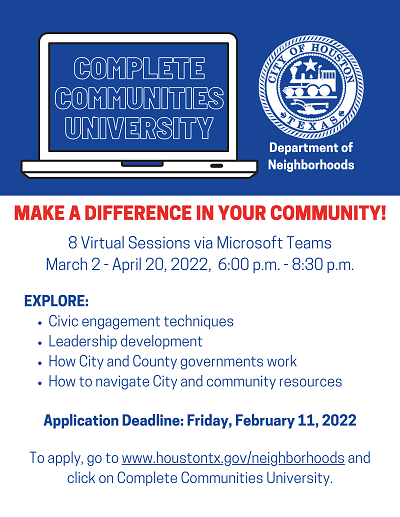 Apply today!
At least 30 enrollees will be selected through a competitive review process conducted by department staff. Selection criteria includes commitment to civic involvement in the City of Houston, leadership potential, skills, and experience. Diversity and representation from all City Council districts will also be considered.
To apply for CCU enrollment, go to www.houstontx.gov/neighborhoods and click on Complete Communities University. Applications must be received by February 11, 2022. For more information, call 832-393-1061 or email CCUniversity@houstontx.gov.
About Complete Communities University
The CCU program was introduced in 2018 by the Planning and Development Department as part of Mayor Sylvester Turner's Complete Communities initiative. The Department of Neighborhoods relaunched the program in the fall of 2021, introducing a new curriculum and opening participation to residents from all Houston neighborhoods. CCU is a year-round program, with courses offered on a quarterly basis and participants selected through a competitive review process. The CCU inaugural session saw the graduation of 23 residents representing new and emerging leadership in City Council Districts A, B, C, D, F, G, H, and I, including the Complete Communities of Alief, Near Northside, Magnolia Park-Manchester, Kashmere Gardens, and Sunnyside.