>
Office of Business Opportunity
> OBO Press Release
Office of Business Opportunity
OBO Press Release
$30,000 Awarded to Aspiring Entrepreneurs in Liftoff Houston! Start-Up Business Plan Competition
November 9, 2020 -- Three Houston residents each took home $10,000 to fund their entrepreneurship goals after they were selected as winners of the 2020 Liftoff Houston! Start-Up Business Plan Competition. The announcements were made on Friday, Nov. 7, after nine finalists presented their business plans to a panel of judges on Pitch Day.
The annual competition, held virtually for the first time since 2013, is sponsored by Capital One Bank and administered by the Houston Public Library (HPL) and the Office of Business Opportunity (OBO).
The 2020 Liftoff Houston winners in each category are:
Innovation: Kimberly Jones, Cosmetic Concierge Nurses, a company specializing in cosmetic and plastic surgery post-operative nursing care. Clients will receive nursing care for a minimum of 4 hours and maximum of 24 hours, care coordination, and health education after cosmetic or plastic reconstructive surgery within the comfort of their homes or recovery locations.
Service: Jerome Vielman, Kairos Chemical & Distribution, Inc., a company with a vision to ensure the optimal flow of natural gas safely across communities. Kairos will provide midstream pipeline companies that have supplier diversity spending goals with Reolube 32B GT, a phosphate ester hydraulic fluid that is fire resistant and thermally stable for the use of steam and gas turbine engines.
Product: Wendell Matthews, Goat and Bear, a company that produces handmade, therapeutic and organic facial hair grooming products for the modern man with a mission to leverage technology to deliver products quickly, conveniently and with the customer in mind. First on the company's product line is a hydrating facial spray infused with aromatic essential oils.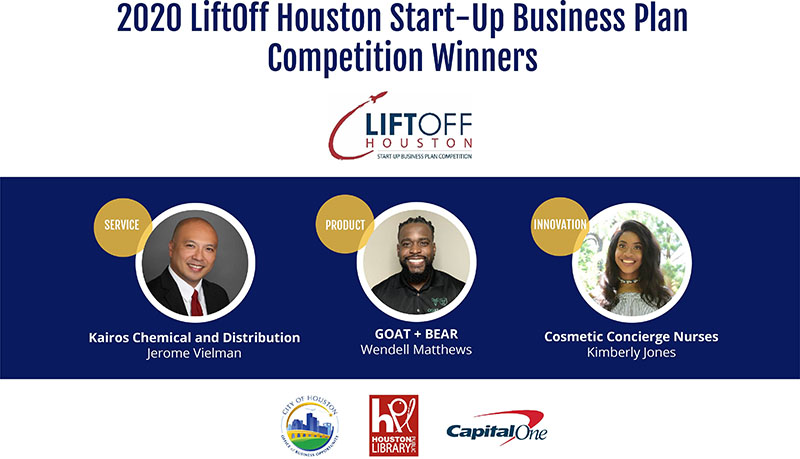 Three fan favorites were also selected by the public through an online poll: Deniece Bushell, Branded by Bushell, a marketing consulting company that provides premium and affordable services to minority-owned businesses (innovation); Amy Lin and Stephen Lind, HEAL Every Day, a company that teaches adult cancer survivors and caregivers how to establish and maintain healthy habits (service); and Wendell Matthews, Goat and Bear (product).
The competition, which began in July and continued through November with a series of workshops, mentoring and coaching sessions, allows participants access to tools, resources and support that will help them develop a sound business plan for their startups.
"I would like to congratulate all of our finalists and winners and thank Capital One for their constant support," said Mayor Sylvester Turner. "Over the years, they have awarded more than $240,000 in start-up capital to aspiring entrepreneurs in Houston, helping them get one step closer to achieving their dreams. More than providing three winners with startup capital, this competition also educates Houstonians with the framework to succeed as business owners, which is a win for our local economy."
For Liftoff Houston updates throughout the year, follow @LiftoffHouston on Twitter and Facebook.