> Office of Business Opportunity
Office of Business Opportunity
The Office of Business Opportunity is committed to cultivating a competitive and diverse economic environment in the City of Houston by promoting the success of small businesses and developing Houston's workforce, with special emphasis on historically underutilized businesses and disenfranchised individuals.
العَرَبِيَّة | Français | Español | 中文 | Tiếng Việt
OBO Highlights
Certifications and Designations
Business Development
Contract Compliance and Reporting
About the Director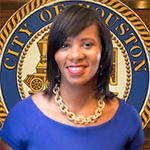 As Chief Diversity Officer and Director for the Office of Business Opportunity for the City of Houston, Carlecia D. Wright leads a City Department that ensures economic opportunity and workforce inclusion. In this mayoral-appointed role since April 2011, Carlecia has led the rebranding and transformation of a division of the Mayor's Office and oversaw the creation of a newly formed City Department committed to diversity, equity and innovation by providing economic opportunity and inclusion throughout the City. More ...
About OBO - In Other Languages