>
ParkHouston
>
Parking Permits
>
Residential Parking
> Application to Request Residential Permit Parking Designation
ParkHouston
Application to Request Residential Permit Parking Designation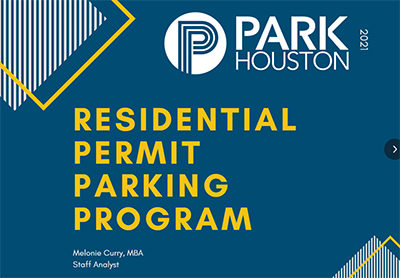 If you are interested in circulating a petition to implement Residential Permit Parking on your block, please note that applications take approximately three months for processing. Numerous steps are involved in the application review process. To ensure your petition is processed timely ...
List and contact every household on the block.
If you are unable to contact a household, the date and method of three attempts must be documented on the petition.
If a property is vacant, list it on your petition and indicate that it is vacant.
Ensure you describe the parking problem and the days and times it occurs.
Email the completed application and petition to parking@houstontx.gov
Pay the application fee online at Pay Application Fee Online
If you mail the application, please contact our office if you have not received confirmation within two weeks.
When Parking Management receives your petition, it is reviewed to determine if it meets the ordinance qualifications for the program. Incomplete petitions are returned to the applicant with instructions for completion. Only completed applications are forwarded for further review.
Next, a parking survey is conducted to verify whether or not there is a commuter problem. A commuter parking problem is defined as greater than 60 percent of the parking spaces are occupied and a minimum 25 percent of the spaces are occupied by a commuter vehicle.
The Traffic Engineer conducts another survey to ensure that parking can occur safely in that location.
If the criteria for the parking survey and the Traffic Engineer are met, a public hearing is scheduled.
The Parking Official and Traffic Engineer receive testimony from the public.
The Parking Official makes a recommendation to City Council for approval or denial of the application.
City Council votes to accept the recommendation.
If the application is approved by City Council, Traffic and Transportation is instructed to install the signage.
Parking Management mails permit applications to all residents on the affected block(s).
Sixty days after the Council vote, the residential parking permit area goes into effect and enforcement is initiated.