>
Police
>
News Release
POLICE Department
Suspect Arrested, Charged in Fatal Crash at 12950 East Freeway
August 13, 2018
- Charges have been filed against a suspect arrested in a fatal crash at 12950 East Freeway (East Interstate Highway 10) about 3:05 a.m. on Saturday (August 11).  
The suspect, Caleb A. Torres (H/m, 23), is charged with intoxication manslaughter in the 263rd State District Court.  A booking photo of Torres is attached to this news release.  
The identity of the deceased male victim, 25, is pending verification by the Harris County Institute of Forensic Sciences.
HPD Vehicular Crimes Division Sergeant S. Maness and Officer J. Glenn reported:  
According to witnesses, a black Cadillac CTS and a white GMC Arcadia were traveling eastbound on the East Freeway at a high rate of speed and weaving in and out of traffic.  The Cadillac struck an inside concrete barrier and then struck the Arcadia, which went airborne onto the service road.  The driver of the Arcadia was ejected.  HFD paramedics responded to the scene and pronounced him deceased.  The driver of the Cadillac (Torres) was detained at the scene and determined to be impaired.  He admitted to officers he had consumed alcohol and narcotics prior to the crash.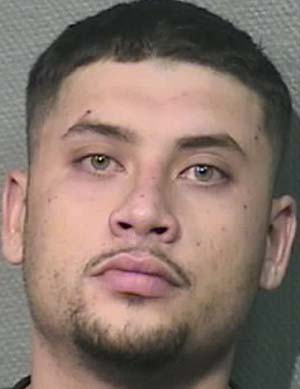 Suspect Caleb Torres

VHS/JFC 8-13-18
Inc. #102063218-U
For additional information, please contact the HPD Public Affairs Division at 713-308-3200.