> Turnaround Houston!
Turnaround Houston!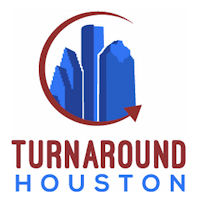 Turnaround Houston! is an initiative launched by Mayor Sylvester Turner in efforts to address the barriers to employment that many Houstonians face. Turnaround Houston will offer access to job training, resume writing, tattoo removal, social service agencies, educational institutions, counseling and intervention to help hard to employ Houstonians turn their lives around. The inaugural Turnaround Houston took place Saturday, March 26, at the Sunnyside Multi-Service Center.
Join us for the Spring 2021 Turnaround Houston Job and Readiness Fair, Serving the needs of all Houstonians to take place on Thursday, April 29 through Sunday, May 2. There will be employers looking to hire as well as resource organizations offering job training and job readiness. In partnership with Workforce Solutions and Houston City Councilman Edward Pollard of District J, we hope you will join us for this workforce event.
To register for this virtual event, please visit https://wrksolutions2.easyvirtualfair.com/prefair.
COVID-19 Resources
Turnaround Houston partners and constituents, as we slowly begin the process of re-opening Houston during this unprecedented time in our city's history, we want all of you to know that the Office of Business Opportunity and the Mayor's Turnaround Houston Initiative continues its commitment to serving our community. We'd like to share with you COVID-19 related and non-related information and resources that we hope will be of some assistance to you. Please continue to prioritize your health and safety by following all CDC guidelines and local orders. Remember to wash your hands for 20 seconds often, social distance at least 6 ft, and wear your mask when out in public spaces.
COVID-19 Health Related & General Information
COVID-19 Employment Related Resources
Opportunities for Job Seekers
Other Useful Resources (COVID-19 Related and Non-Related)
Mental Health Resources
Turnaround Houston is a Collaborative Partner with H-GAC's Gulf Coast Workforce Board - Workforce Solutions