> Turnaround Houston!
Turnaround Houston!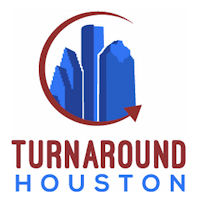 Turnaround Houston! is an initiative launched by Mayor Sylvester Turner in efforts to address the barriers to employment that many Houstonians face. Turnaround Houston offers access to job training, resume writing, tattoo removal, social service agencies, educational institutions, counseling and intervention to help hard to employ Houstonians turn their lives around.
Join us for the Fall Turnaround Houston Job and Readiness Fair on Thursday, September 21, from 10 a.m. to 1 p.m. at Emancipation Cultural Center. To register for this event, go to https://wrkjobfair092123JS.eventbrite.com.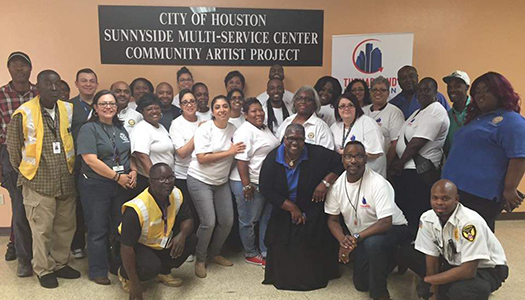 More than 450 people attended the first in-person Turnaround Houston event since the pandemic. We are pleased to announce that over 300 interviews were scheduled! In addition, 45 free haircuts were given courtesy of Franklin Barber Institute, and 65 laptops were given out courtesy of Bridging the Digital Divide. Special thanks to our collaborators Councilmember Edward Pollard - City of Houston District J, Houston Complete Communities, and the Gulfton Citizen's Advisory Council. We are committed to hosting more Turnaround Houston events in 2023.
For information on how to best utilize Turnaround Houston job fairs, please see the following resources provided by District J.
Media & Press Releases
See the Workforce Series recordings below to help job seekers connect to valuable resources.
Resume and Interview Skills
Presenters: Workforce Solutions, Career Gear, Dress for Success Houston
https://youtu.be/V73RIGmyk_Y
Service Industry Spotlight
Presenters: JW Marriott Houston, OTG Airport Concession Group, UH Hilton College of Hotel and Restaurant Management
https://youtu.be/InQraPddeL0
Budgeting your Paycheck
Presenters: Houston Financial Empowerment Centers, METRO
https://youtu.be/_jW9AogaaO0
Trade and Certification Programs
Presenters: SER Jobs, Work Texas
https://youtu.be/J1Vf_OAyWOw
Resiliency Health Related & General Information
Employment Related Resources
Opportunities for Job Seekers
Other Useful Resources
Mental Health Resources
Turnaround Houston is a Collaborative Partner with H-GAC's Gulf Coast Workforce Board - Workforce Solutions