> Turnaround Houston!
Turnaround Houston!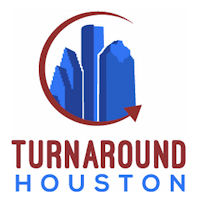 Turnaround Houston! is an initiative launched by Mayor Sylvester Turner in efforts to address the barriers to employment that many Houstonians face. Turnaround Houston will offer access to job training, resume writing, tattoo removal, social service agencies, educational institutions, counseling and intervention to help hard to employ Houstonians turn their lives around. The inaugural Turnaround Houston took place Saturday, March 26, at the Sunnyside Multi-Service Center.
Our next Turnaround Houston Resource Fair:
Partner organizations and company employers wishing to have an exhibit table at the event can also contact Norma Meadows at Norma.Meadows@houstontx.gov or via phone at 832.393.0615.
PARTICIPATING EXHIBITORS
EMPLOYERS
2nd Nature Safety
Aggressive Waste
Alleyton Resource Company/Allied Concrete
Alorica
Certified Staffing
City of Houston Human Resources Department
Crawford Electric
Mission Staffing
Nation Waste
Onin Staffing
Ranstad USA
RDCTT/Ironworkers Local 847
Taylor Smith Consulting
What Next Why Me Staffing & Training Company
Williams Brothers Construction Co., Inc.
RESOURCE ORGANIZATIONS
AAA Texas
BBVACompass Bank
Bread of Life
Career Gear
City of Houston Community Network Re-Entry Program
City of Houston Department of Neighborhoods
City of Houston Municipal Courts Department
City of Houston Office of Business Opportunity
Dispute Resolution Center
Franklin Beauty & Barber Institute
GoodWill Houston
Grand Canyon University
Houston Public Library
Knowledge Bank
Office of the Attorney General
Professional Career Training Institute
Revive Community Worship Center
San Jacinto College
Skanska
Texas Veterans Commission
Workforce Solutions
Please check back frequently as we will be updating this page with other participating organizations.
Turnaround Houston Harvey Disaster Recovery Temporary Jobs
Turnaround Houston and H-GAC's Gulf Coast Workforce Board - Workforce Solutions, have partnered to implement the National Disaster Workforce Recovery Program which provides temporary jobs to support the City of Houston's post-Harvey efforts for the extensive cleanup and repairs of various City facilities and public spaces, as well as respond to the increased demands of City services, and provide humanitarian assistance to Houstonians devastated by Harvey.
In order to participate in the Turnaround Houston Disaster Recovery Collaborative, Workforce Solutions requires that individuals be pre-determined eligible for the temporary positions. Eligibility requirements:
Must have lost a job due to Harvey;
Have been unemployed for 10 weeks or more and are still actively searching for work; or
Is currently receiving unemployment insurance.
Persons interested in these positions can visit any Workforce Solutions Career Center http://www.wrksolutions.com/find-a-location for eligibility determinations.
Turnaround Houston is a Collaborative Partner with