BARC Animal Shelter & Adoptions
Adopting a Pet
---
As the City of Houston's municipal Animal Shelter, BARC receives more than 15,000 animals each year. Many of these pets are adoptable and made available to the public, and thousands have found forever homes through BARC's adoption program. Looking to adopt a new BFF? You've come to the right place!
Adoptions are done on a first come, first served basis. We recommend visiting the shelter as soon as possible as animals are often adopted quickly! Please note that we are not able to place adoption holds for pets.
All adoptions must be done in person. Start the process by planning your visit to the shelter. Appointments are not needed to adopt a pet!

To adopt you must be 18 years of age or older and have a valid, government issued photo ID. If the address on your ID does not match your current address, please provide an alternate proof of address such as a recent utility bill, lease agreement, or car insurance. Digital or hard copies will be accepted.

Our staff will review the pet's details with you to ensure that you are prepared to be as successful as possible with your new pet! Please allow at least one hour to interact with our available animals, speak to our medical team if necessary, and complete the adoption process. Depending on the number of guests we're serving, the pet adoption process can take anywhere from 60-90 minutes - Our last adoption is processed at 5:00pm on Tuesdays, Fridays, Saturdays and Sundays, and 7:00pm on Wednesdays and Thursdays. Hours are subject to change based on wait times or staff avaiability.

Please come prepared to take your new pet home with you. If the pet you've fallen in love with is already spayed or neutered, they will go home the same day. Otherwise, they will stay at the shelter and will be scheduled for surgery on the next available day. BARC provides a cardboard carrier for cats or a leash for dogs, but you may prefer to bring a travel crate or kennel for safe transport.
BARC's normal adoption fees are outlined below. We often have adoption promotions at reduced fees! Check out BARC's social media channels for the latest promotions. You can find us on Instagram, Facebook, Twitter, and Nextdoor!

Adult dogs are 5 months & older, puppies are 4 months and under
Adult cats are 5 months & older, kittens are 4 months and under



NormalAdoption Fee
Senior 4 Senior
(60Y+ Adopter)

Dogs

$50
$2*
Cats
$20
$2*
Puppies
$75
$75
Kittens
$20
$20
PURRFURRED Pet**
REDUCED FEE
REDUCED FEE

Adoption fees for all pets are waived every day for Veterans and active Military members thanks to our Veteran Companion program! Proof of service or military ID must be presented at the time of adoption.

*SENIOR 4 SENIOR promotion applies only to pets two years or older. Pets younger than two years will have normal adoption fees.

**PURRFURRED pets are pets who have met certain criteria and have been specially selected by BARC staff to help them find their forever homes quickly. Adoption fees for PURRFURRED pets are always reduced!
All Pet Adoptions Include:

---

Spay or neuter surgery, dewormer, age-appropriate vaccinations, rabies vaccination, flea prevention, a pet microchip, and a one year registration with the City of Houston. BARC strongly recommends taking your newly adopted pet to a veterinarian within 72 hours for a follow up exam. If the pet becomes sick BARC offers treatment for newly adopted pets within two weeks of the adoption date. Appointments for sick adopted pets are required, visit our Wellness Center webpage to make an appointment at https://www.houstontx.gov/barc/wellnesscenter.html.



Heartworm Treatment For Adopted Heartworm Positive Dogs

---

BARC tests for heartworms in all dogs over 6 months of age that enter the shelter. Heartworm disease is a serious and potentially fatal disease which affects dogs and other mammals in the United States and other parts of the world. Heartworms are a vector disease caused by foot-long worms that live in the dog's heart. This disease is transmitted by mosquitos. It does not spread from dog to dog so it is safe to adopt a heartworm-positive dog.

Heartworm disease is treatable and the treatment can be sponsored at no additional cost to the adopter when you purchase 6 months of heartworm prevention (price varies from $25-$45). Heartworm disease can be resolved and most dogs respond well to treatment and can live long and happy lives! If the dog you have chosen to adopt is heartworm positive, we will have you speak to a medical team member prior to completing the adoption. The team member will be able to answer any questions you may have, help you learn more about this disease, and what the treatment will entail. Heartworm disease can be prevented. Due to the high density of the disease and mosquitos in our area, all dogs in your household should be on heartworm prevention. Visit www.heartwormsociety.org to learn more about heartworm disease in dogs.
Pets in Foster Care are not physically in the shelter except for on special event days. To see available pets currently in foster care visit https://24petconnect.com/BARCFosters.

If you have found a pet from foster care that you would like to adopt or learn more about, Email barcfoster@houstontx.gov with the name and animal ID of the pet you are interested in! BARC will connect you with the foster caregiver through email so that you can learn more about the pet's personality and schedule a meet & greet with the pet. Please allow at least 48 hours for the foster caregiver to reach out.

Once you have met the pet and confirm you would like to adopt, our foster team will reach out to you on how to start the adoption process. For most pets, the adoption will still have to be done in person at BARC.



For more information on adopting a pet from foster care, please contact barcfoster@houstontx.gov.
Please come to BARC before 1 p.m. or contact BARCadoptions@houstontx.gov before 1 p.m. to confirm your visit to adopt that day before BARC closes for adoptions at 5 p.m.
View Pets Available in the shelter
---
BARC Events & Promotions Calendar
---
---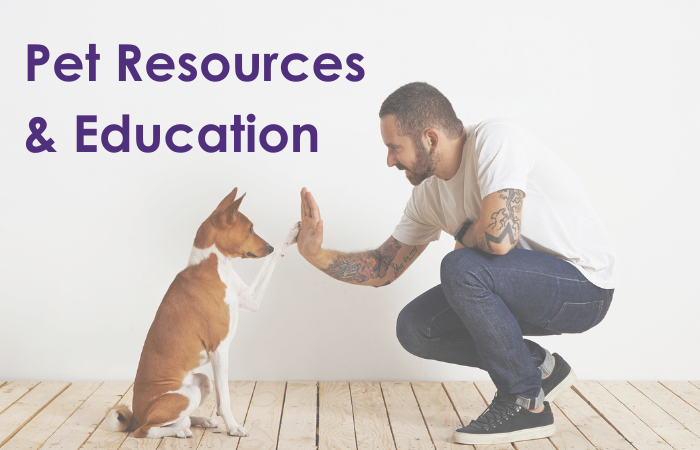 Pet Resources & Education
---
Visit our Pet Resources & Education website to learn how to help your newly adopted pet settle in, find local organizations that provide financial assistance to pet owners in need, and more!
(Links are provided by the United States Humane Society)
Learn More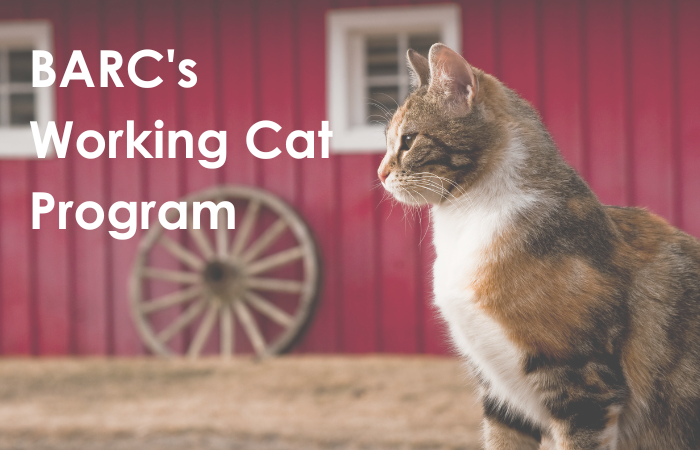 Working Cat Program
---
Some cats come to BARC with histories and temperaments that make them better suited for a more independent lifestyle as barn cats, shop cats and more. Learn more about these fantastic felines on our Working Cats website! Email BARCadoptions@houstontx.gov to learn how to adopt Working Cats!
Learn More
Follow Us On Social Media
---