BARC ANIMAL SHELTER AND ADOPTIONS
Lost a Pet?
BARC Animal Shelter and Adoptions is committed to reuniting lost pets with their owners as quickly as possible. BARC is open seven days a week from 9 a.m. to 5 p.m., for pet owners looking for their lost pets. There are a few things you can do to get the word out about your lost pet.
First, please register them on www.PetHarbor.com to get daily emails of found pets in the area that match your pet's description (if you haven't already done so).
You can search through photos of BARC's animals on 24 Pet Connect under the "Lost My Pet" section.
You can also search through the "Adopt A Pet" section on 24PetConnect.com just to be sure you search in as many places as possible.Note that Pet Harbor is updated with new animals every hour.
In addition to these items, we also recommend visiting BARC regularly to check to see if your pet was taken into our facility. Although we do our best, please note that we cannot guarantee that we will be able to identify your pet as lost and reunite you with her.This is due to the high volume of Lost Pet emails we receive each day.
If your pet has entered BARC, the best way to make sure you and your pet are reunited is to check Pet Harbor as regularly as possible and visit the facility.
Please make sure to search through ALL of the dogs or cats without any filters just to be sure you see your pet if she is there. Again, this is the BEST chance that you have to be reunited with your pet if it enters BARC. If you search through Pet Harbor and  think you found your pet at BARC, please visit the shelter IMMEDIATELY and email the BARC Animal ID number of your pet to wayhome@houstontx.gov
BARC's hope is that all lost pets are reunited with their owners and we work to ensure finding a lost pet is as streamlined as possible.
If an Animal Control Officer finds your pet, and your pet is wearing a current license tag on its collar, Animal Services will attempt to contact you via phone or mail. If another citizen finds your pet with its license tag, they can call the toll-free number on the tag. A staff member from BARC will attempt to contact you to let you know who has found your pet.
If your pet has been lost, BARC urges you to visit the shelter as soon as possible to look for your pet. The shelter is located at 3200 Carr St. in Houston. If you come before noon, please come to 2700 Evella St.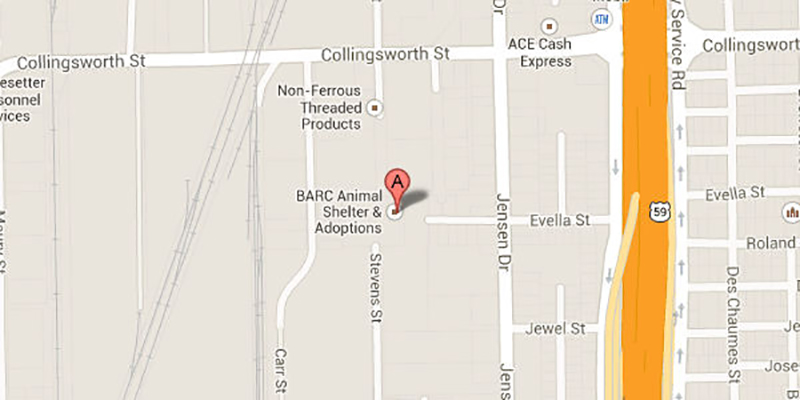 OTHER LOST PET RESOURCES
Free Resources
Paid Resources
The service provider links below are provided solely for your information - BARC does not endorse or partner with any of these services, nor do we vouch for their effectiveness.
Find Toto - (phone and other services)