> Parking Management
ParkHouston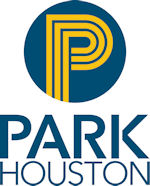 SCAM ALERT – The City of Houston is not sending emails to request payment for parking citations.
ParkHouston is a Division of the Administration & Regulatory Affairs Department. By servicing and maintaining 9,200 on-street parking spaces across the Greater Houston area, ParkHouston creates sound regulations for all commercial and residential areas enhancing pedestrian safety, ensuring a smooth flow of traffic and allowing emergency vehicles to reach their destinations. As the parking management division for the City of Houston, we also encourage parking awareness while supporting public transit initiatives.
Dockless Vehicle Feedback
The City of Houston is considering recommendations for a pilot Dockless Vehicle Program. Read the Stakeholder Recommendations document (.pdf).
You may review some of the Stakeholder Committee Recommendations (.xlsx). Download the spreadsheet and insert your feedback.
Send the document with feedback to parking@houstontx.gov by close of business on December 12, 2018.
What are dockless vehicles?
Dockless vehicles are systems of bicycles and/or scooters that are available for short-term rentals for point-to-point trips. These may be locked and unlocked using a smartphone app without the requirement of a bicycle rack or other docking station.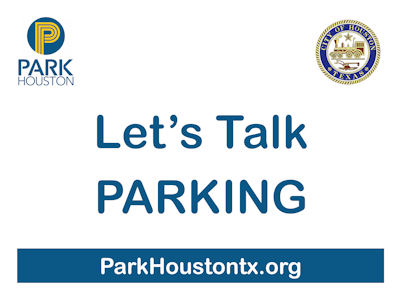 Let's Talk Parking in the Museum District:
Museum Park Super Neighborhood | Museum Area Municipal Association (MAMA) | Almeda Corridor
ABOUT PARKHOUSTON
ParkHouston supports the City of Houston's economic development by providing superior customer service, investing in cutting edge technologies, and actively collaborating with stakeholders. As a solution-focused division of the Administration and Regulatory Affairs Department, we service and maintain over 9,200 on-street parking spaces across the City. We create sound parking management strategies for commercial and residential areas that enhance pedestrian safety, ensure a smooth flow of traffic, and allow emergency vehicles to reach their destinations. ParkHouston also works to create more sustainable communities by reducing congestion and supporting alternative modes of transportation.
NOTICE: We have received information regarding a parking citation SCAM. Please note that the City of Houston Parking Management Division does not request payment via email or by postcard. If you have received this, you can check for any open parking citations at https://houstonparking.t2hosted.com/cmn/index.aspx or please contact the Houston Help Line at 713.837.0311 (3-1-1).
PARKING METERS
Like many communities, the City of Houston strategically places parking meters in areas where parking is in high demand. By managing curb-space, meters allow more drivers to easily find parking and identify spaces designated for public use. Meters also help create parking turnover by keeping spaces from being used for extended periods.  On-street and lot meter durations, rates and times vary according to the time demand at each location. Meter durations range from 30 minutes to 10 hours, depending on parking needs. Rates also vary and are predetermined according to parking studies performed before meters are installed.
DIVISION RESPONSIBILITIES
Manage over 9,000 parking meter spaces throughout the City to support mobility and manage the infrastructure
Promote economic development through the management of public parking spaces
Develop Neighborhood Parking Management Plans to implement solutions to address neighborhood parking issues
Assist neighborhoods with chronic commuter parking problems through the Residential Permit Parking program
Promote public safety through the promotion of parking compliance and enforcement
Operate 19 surface parking lots
Educate neighborhoods on public safety and parking regulations through the Know Parking Program
Collect and manage parking meter revenue, parking permit revenue and parking fines
Provide timely communications and superior customer service
Protect the rights of the disabled community by training and empowering volunteers to issue parking citations
Contribute to community improvements through Parking Benefit Districts
Responsible for the administration of on-street regulations in Chapter 26.
DIVISION ACCOMPLISHMENTS 
International Parking Institute Accredited Parking Organization with Distinction
Texas Parking and Transportation Association 2017 Parking Technology and Equipment Award for T2 Parking Management System and 311 Integration
Texas Parking and Transportation Association 2017 Employee of the Year
Texas Parking and Transportation Association 2017 Distinguished Service Award
Installed the nation's first public Art Parking Meters
Offered an alternative mode of transportation with the Midtown Car Share Pilot Program
Launched the ParkHouston app for mobile payments
Refreshed the parking pay stations in Downtown with the pay-by-plate feature
Renovated the parking lots adjacent to the University of Houston Downtown with new striping, signage and lighting
Redesigned and renovated the parking lot at Municipal Courts to improve mobility on Memorial Drive and improve the customer experience
In partnership with the Department of Public Works and Engineering, added on-street ADA compliant parking spaces in the Central Business District, Midtown and East Downtown.
Rehabilitated seven parking lots under the Pierce Elevated; improving safety in the area
Implemented an Ambassador Training Program for staff
Established the first citizen-led Parking Commission in the state of Texas.
Named Municipal Parking Organization of the Year for 2007 by the International Parking Institute.