>
Events and Venues
> Alley Theatre
Events And Venues In Houston Area
Alley Theatre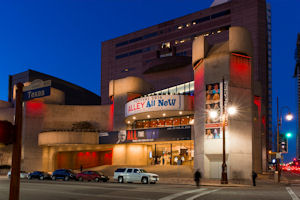 Alley Theatre
615 Texas
Houston, TX 77002
PHONE: 713.220.5700
www.alleytheatre.org
The Alley Theatre, one of America's leading nonprofit theatres, is a nationally recognized performing arts company led by Artistic Director Rob Melrose and Managing Director Dean R. Gladden. The Alley is committed to developing and producing theatre that is as diverse as the Houston community. The Theatre produces up to 16 plays and nearly 500 performances each season, ranging from the best current work and re-invigorated classic plays to new plays by contemporary writers. Home to a full-time resident company of actors, the Alley engages theatre artists of every discipline—actors, directors, designers, composers, playwrights—who work on individual productions throughout each season as visiting artists.
The Alley is comprised of two state-of-the-art theatres: the 774-seat Hubbard Theatre and the 296-seat Neuhaus Theatre. The Alley reaches over 200,000 people each year through its performances, education, and community engagement programs. Its audience enrichment programs include pre-show and post-performance talks, events, and workshops for audience members of all ages.
June 28, 2022 -- Butch Mach, Alley Theatre Board Chair and Chairman of the Alley Theatre Vision for the Future Campaign, is pleased to announce that the Tony Award®-winning Alley Theatre received a $25 million matching grant from an anonymous donor as part of the $80 million Alley Vision for the Future Campaign. This is the largest gift in the 75-year history of the Alley. In recognition of this gift, the 615 Texas Avenue Theatre Building will be named Meredith J. Long Theatre Center in honor of the Theatre's longtime Chairman Emeritus who passed away on June 3, 2020.
Alley Theatre Schedule
The Odyssey: March 24 to April 23, 2023 (Cancelled)
Sherlock Holmes and The Case of The Jersey Lily: April 14 to May 7, 2023
The wit of Oscar Wilde meets the cunning of Sir Arthur Conan Doyle. In this comic twist on a classic sleuthing caper, Wilde's muse, actress Lillie Langtry (a.k.a the Jersey Lily) presents Holmes with what seems like an open and shut case. But with his superior powers of deductive reasoning, Sherlock wastes no time in exposing a much more sinister conspiracy. Meanwhile, Oscar Wilde is in the throes of writing his acclaimed The Importance of Being Earnest and Holmes might inspire some of the play. In a fast-paced ride full of surprises and disguises, Holmes and Watson must do whatever it takes to help their friends…while facing their greatest foe.
Torera: May 12 to June 11, 2023
Bullfighting in Yucatán, Mexico is a world nearly exclusive to men—yet for Elena Ramírez, it is her life's ambition. With the help of her best friend, a matador's son, Elena begins secretly training to compete with the greatest. But when she discovers that her seemingly inherent talent can beat even the most accomplished toreros, this young woman must choose between accepting society's limits or breaking boundaries. A world premiere play written by a stunning new voice in the American theatre, Torera tells a poignant story about becoming your truest self by proudly stepping into the ring. The play will be developed in the 2022 Alley All New Festival.
The Servant of Two Masters: June 9 to July 2, 2023
Identities are mistaken, engagements are broken, and lovers are reunited in this world premiere adaptation of Carlo Goldoni's commedia dell'arte masterpiece. Set in Venice, mayhem erupts when the wily -- and chronically hungry -- servant Truffaldino hatches a zany scheme to double his wages (and his meals) by serving two masters at once. Directed by Rob Melrose, this physical comedy classic will have you laughing at and loving our hapless hero.