>
Events and Venues
> Woodlands Pavilion
Events And Venues In Houston Area
Woodlands Pavilion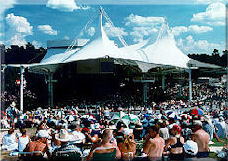 Cynthia Woods Mitchell Pavilion
2005 Lake Robbins Drive
The Woodlands, TX 77380
PHONE: 281.363.3300
www.woodlandscenter.org
Surrounded by a lush forest, The Cynthia Woods Mitchell Pavilion is an outdoor amphitheater that provides the Greater Houston region with an array of performing arts and contemporary entertainment in a setting of unparalleled beauty.
George P. Mitchell, former chairman of Mitchell Energy & Development Corp. and founder of The Woodlands, along with his wife Cynthia Woods Mitchell, for whom The Pavilion is named, dreamed of creating a first-class performing arts facility for The Woodlands since the community's inception in 1974. They envisioned such a facility as a venue for performing arts events as well as popular music.
The dream became a reality when The Pavilion opened with a star-studded gala weekend in April 1990. Since then, it has earned praise from both artists and audiences. The Pavilion presents approximately 75 events every March through November; events ranging in style from rock to classical, jazz to country, and modern opera to contemporary American ballet.