>
Events and Venues
> Miller Outdoor Theatre
Events And Venues In Houston Area
Miller Outdoor Theatre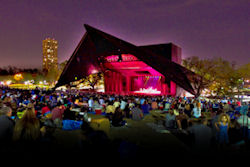 Miller Outdoor Theatre
6000 Hermann Park Drive
Houston, TX 77030
PHONE: 281.373.3386
www.milleroutdoortheatre.com
Located on nearly eight acres in the heart of Hermann Park, Miller Outdoor Theatre is the only free open-air theatre of its kind in the United States.
The 2023 Season Opens March 17
Fun Facts and Frequently Asked Questions about Miller Outdoor Theatre
Where is everyone going?
Since 1923, Miller Outdoor Theatre in Hermann Park has been one of Houston's most beloved cultural treasures, a gathering place for the community and the site of thousands of memorable free performances.
Miller is unique in the United States, offering an eight-month season of professional, artistically-excellent and culturally diverse entertainment completely FREE of charge to the public. This is the largest "always free" program of its kind in the country and it attracts hundreds of thousands each season. From daytime programs especially for young children to family friendly evening performances of classical music, jazz, ethnic music and dance, ballet, Shakespeare, musical theatre, popular concert artists, films and more, this is Houston's best entertainment value.
What to expect at Miller Outdoor Theatre?
Leave the neckties and high heels at home. Expect quality entertainment from around the world without the daunting dress code of a traditional theater. Miller Outdoor Theatre offers audiences a relaxed atmosphere, allowing guests to enjoy one another's company as well as a great performance.
The price is right. All performances are always free!
To the Right, or to the Left on the hill?
Take a family vote on where you'd like to sit to enjoy the performance. Tickets are not necessary for hillside seating. Blankets and lawn chairs are welcome. Please note that lawn chairs must be placed on the left side of the hill. Sit on the right side of the hill if you prefer to sit on a blanket.
How do you get a seat in the covered seating area for evening performances?
Approximately 1,700 new seats were installed under the canopy in 2009. Admission is free for all performances. All evening shows (except movies) require tickets for admission for seats under the canopy. For those performances, assigned seat tickets are available, on a first-come basis and while supplies last, on the day of performance only between 10:30 a.m. and 1 p.m. at the box office behind the theatre. A maximum of four tickets per person over age 16 is allowed. Any remaining tickets are released one hour before curtain. TICKETS MAY NOT BE RESERVED BY PHONE.
Can I lose my seat even though I had a ticket?
All unoccupied seats are released 5 minutes before the show is scheduled to begin. We encourage all patrons to be in their seats 15 minutes before show time to insure that their seat will not be released. Again, there is NO charge for tickets.
Please note: At management's discretion, all unoccupied seats may be released at any time for any reason.
How do you get a seat in the covered seating area for daytime performances?
The Daytime Children's Series offers teachers and parents alike an excellent opportunity to expose youngsters to the delights of the performing arts with a series of productions designed especially for children. Performances begin at 11 a.m. and last approximately 1 hour. No tickets are necessary for covered seating area. Seating is on a first-come, first-served basis.
Paper or Plastic?
You choose. But, definitely NO glass containers of any kind are allowed.
You'll never go hungry here
Miller Theatre's concession stand offers refreshments and other supplies for picnics. Purchasing concessions at Miller Theatre supports the free performances.
No Smoking
Miller Theatre is a NO SMOKING zone. Smoking is not allowed in any City of Houston Park, including Hermann Park. No smoking at the theatre, on the plaza or on the hill. Your cooperation is greatly appreciated.
What to pack
Decisions, decisions…there are so many choices. Pack a picnic basket with fried chicken or caviar. It's up to you. Bring a blanket or lawn chair. Definitely bring the whole family. Yes, you may even pack alcohol. But please, leave the glass containers at home.
In the Museum District map below: (1) Contemporary Arts Museum, (2) Museum of Fine Arts, (3) Museum of Natural Science, (4) Health Museum, (5) Miller Outdoor Theatre, (6) Houston Zoo, (7) Childrens' Museum