>
Calendar of Events
> Wortham Center
Events And Theaters In Houston Area
Wortham Center
Wortham Center
501 Texas
Houston, TX 77002
PHONE: 832.487.7000
www.worthamcenter.org
Wortham Center is home to Houston Ballet and Houston Grand Opera. Since its opening in 1987, funded entirely by the private sector during the height of the 1980s oil bust, Wortham has entertained audiences totaling more than five million people.
It has also served as the backdrop for hundreds of social galas, civic meetings, corporate and group events, and even weddings, further underscoring its role as a community center as well as a performing arts venue. The Wortham Center features two theaters, grand lobbies, and extensive space for performers and support personnel.
Houston Ballet and Houston Grand Opera Schedule
BALLET -- Sylvia
(February 21 to March 3, 2019)
Stanton Welch AM brings his own interpretation to the classic story of the strong mythological heroine, the huntress Sylvia, and her love for a mortal shepherd. The ballet follows her journey as she's torn between her duty and her desires. Welch's inspired work will showcase a constellation of figures from Greek mythology woven together in a tapestry of three love stories. This ballet is set to Léo Delibes' famous score and provides an opportunity to see the classic story through Welch's unique and creative narrative. This mythical romance is surrounded by gorgeous costume and scenic designs by world-renowned ballet and opera designer Jerome Kaplan, with projections by Houston Ballet favorite Wendall K. Harrington, whose delicious designs were featured in Stanton Welch's The Nutcracker.
BALLET -- Robbins
(March 7 to 10, 2019)
We're thrilled to join ballet companies around the world in celebrating the 100th anniversary of Jerome Robbins' birth. In our first of three diverse pieces, we welcome back Robbins' Fancy Free, a delightful glimpse into the lives of three sailors on leave during one hot summer night in 1940s New York City. The unique blend of Robbins' iconic Broadway style and balletic grace in Fancy Free helped launch his career and inspire the Broadway musical On the Town. Stanton Welch AM has specifically selected The Cage, a lesser-known Robbins work that features our brilliant female dancers as they transform into a troupe of abstract insect-like creatures who hunt down their male prey. With our final Robbins piece, The Concert (or the Perils of Everybody), we bring back one of the great comedic ballets of all time.
BALLET -- Premieres
(March 21 to 24, 2019)
The range of our dancers is on display in a program made up entirely of premieres. After the triumph of her World Premiere Angular Momentum created in 2012 for Houston Ballet, Aszure Barton returns with Come In, a contemporary work for thirteen male dancers. Following the tremendous response to Justin Peck's Year of the Rabbit, we're pleased to welcome him back to Houston Ballet to create a World Premiere for the company. Look forward to seeing his approach, which is always energetic, current, and focused on the power of the music. Continuing our tradition of bringing Jiří Kylián's ground-breaking works to Houston like Petite Mort, we're pleased to present Kylián's Dream Time. As part of the choreographer's iconic repertoire at Nederlands Dans Theater, this ballet captures the power of dance to transcend time and communicate across all barriers, beautifully danced to a gorgeous score by the legendary Japanese composer Toru Takemitsu.
OPERA -- Don Giovanni
(April 20, 27, 30 and May 3 at 7:30 p.m., and May 5 at 2:00 p.m)
The legendary womanizer Don Giovanni adventures across Europe with his resourceful servant Leporello to take advantage of women and indulge his hedonistic desires. In Seville, after abandoning his latest conquest, the playboy plans to seduce even more women, including noblewoman Donna Anna and peasant Zerlina. Unfortunately, his luck runs out. Mozart's masterpiece returns to HGO in a stunning new production by Kasper Holten. Es Devlin's innovative, rotating set and Luke Halls's cutting-edge projections transport the audience deep into the dark mind of a serial philanderer.
OPERA -- Don Giovanni
(April 20, 27, 30 and May 3 at 7:30 p.m., and May 5 at 2:00 p.m)
The legendary womanizer Don Giovanni adventures across Europe with his resourceful servant Leporello to take advantage of women and indulge his hedonistic desires. In Seville, after abandoning his latest conquest, the playboy plans to seduce even more women, including noblewoman Donna Anna and peasant Zerlina. Unfortunately, his luck runs out. Mozart's masterpiece returns to HGO in a stunning new production by Kasper Holten. Es Devlin's innovative, rotating set and Luke Halls's cutting-edge projections transport the audience deep into the dark mind of a serial philanderer.
OPERA -- The Phoenix
(April 26, May 4, 7, and 10 at 7:30 p.m., and April 28 at 2:00 p.m)
Lorenzo da Ponte led a scandalous life that rivaled the stories he committed to paper, including some of his most popular operas: Don Giovanni, Così fan tutte, and The Marriage of Figaro. After becoming a priest and poet in Venice, he was banished when it was discovered that he had connections to many brothels and a secret family with two children. Luckily, he was introduced to Wolfgang Amadeus Mozart in Austria and flourished as a librettist. His new-found fame gained him access to the upper echelons of European society. Yet after much success, Da Ponte found himself bankrupt and needing to flee once more. He sought refuge in America where he made a modest living as a grocer before rising again to establish the New York City's first opera company in 1833.
BALLET -- The Merry Widow
(May 31 to June 9, 2019)
The Merry Widow returns to Houston Ballet with a delicious cocktail of witty and intriguing characters based on the famous 1905 operetta by Franz Lehár. Choreographed by longtime friend to the company and esteemed British choreographer Ronald Hynd, this lavish story ballet is filled with rich music and sweeping drama as decadent lives intertwine in early 20th century Europe. When a secret romance is uncovered between Count Danilo and the glamorous, wealthy widow Hanna Glawari (a former peasant girl who's transformed herself into high society), their homeland and its aristocracy plot to preserve their love affair while also saving themselves and the principality of Pontevedro from bankruptcy. With gorgeous costume and scenic designs by the acclaimed Roberta Guidi di Bagno, The Merry Widow is sure to enthrall audiences with its humor and grandeur.
BALLET -- Marie
(June 14 to 23, 2019)
History becomes HERstory as Marie returns to the Wortham in grand fashion to close our 2018/19 season. The past unfolds in Stanton Welch AM's dramatic retelling of France's infamous young monarchs, Marie Antoinette and King Louis XVI. This three-act ballet chronicles the Queen's tragic life in a time of immense social and political strife for the people of France. Beautifully designed by Kandis Cook, Marie is elegant and extravagant, poignant and powerful, and follows one woman's complex struggle to protect her family, friends, and nation. With compositions from Shostakovich's rich body of work, Marie has been performed internationally and remains an example of Welch's powerful blend of storytelling, artistry, and choreography.
BALLET -- Giselle
(September 6 to 15, 2019)
When Petipa's Giselle opened the Houston Ballet season in 1967, it marked a turning point; the city could and would support a company of international acclaim. While it remains a supreme example of 19th-century balletic Romanticism, Stanton Welch's Giselle was created entirely on Company dancers, many of whom will return to their original roles for this production. In this story of a peasant girl deceived by an aristocrat disguised as a commoner, the emotions of love, betrayal and redemption play out in stunning simplicity. With sets and costumes by acclaimed Italian designer Roberta Guidi di Bagno, Welch's Giselle is one of the most beautiful ever produced.
BALLET -- Locally Grown. World Renowned.
(September 19 to 29, 2019)
Only a Company with the depth, breadth and the facilities of Houston Ballet could assemble a locally grown program by some of the world's most sought-after choreographers. Hailed by The New York Times as "easily ballet's most original choreographer," Canadian-born James Kudelka premiered Passion in Houston in 2013 to great critical acclaim. Born in Taiwan and raised in California, Edwaard Liang's was inspired by flight patterns of starling birds and he employs his signature seamless and emotional movements in Murmuration. American born Houston Ballet soloist Oliver Halkowich has danced classical and contemporary works by Balanchine, Kylián, Forsythe and many others. This is his first solo choreographic work for the Company. Also, on this spectacular program is a World Premiere by Zhang Disha. A winner of numerous international choreographic awards, she is recognized worldwide as a strong, daring and highly emotional modern choreographer.
OPERA -- Rigoletto
(October 18, 26, 29 and November 1 at 7:30 p.m., and October 20 at 2:00 p.m)
Featuring some of opera's more recognizable music, Verdi's Rigoletto is a tragic story of jealousy, lust, and revenge. The antagonistic jester, Rigoletto, is cursed after a joke goes too far in the court of the villainous Duke. Despite his best efforts to protect his beloved daughter, Rigoletto is unable to keep her safe from the outside world and the curse's fulfillment. He most certainly will not have the last laugh.
OPERA -- Saul
(October 25 and November 2, 5, 8 at 7:30 p.m., and October 27 at 2:00 p.m)
Barrie Kosky's imaginative production of Handel's dramatic biblical oratorio has been critically lauded for its booming choruses and breathtaking design. The opera begins after David slays Goliath and follows the mental breakdown of the envious King Saul. In this stimulating and emotionally inspired production, Kosky creates a captivating drama highlighting the tension of social class and a world fraught with religious strife.
BALLET -- The Nutcracker
(November 29 to December 29, 2019)
Gather your family and friends and join Clara in holiday revelry as she journeys from her home on Christmas Eve, through a magical Christmas tree, and into the whimsical Kingdom of Sweets, accompanied by her Nutcracker Prince.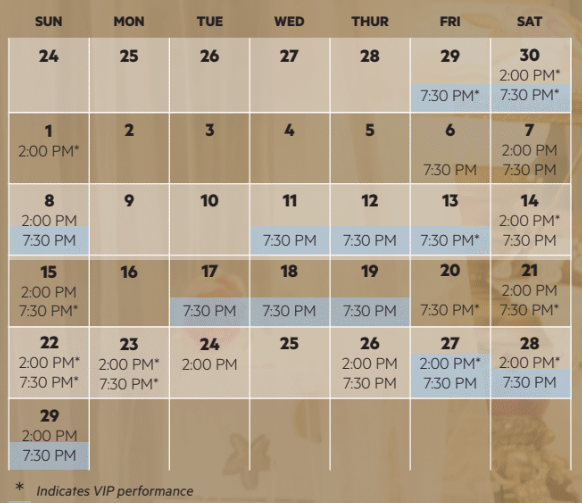 OPERA -- El Milagro del Recuerdo
(December 5, 13, 14, 19 at 7:00 p.m., and December 8, 15 at 2:30 p.m)
A world premiere and prequel to the mariachi opera Cruzar la Cara de la Luna, El Milagro del Recuerdo/The Miracle of Remembering brings audiences back to where it all began, Michoacán, Mexico. Set during Christmas, the opera lovingly explores the themes of traditions, familial bonds, and the dream of something more while dealing with life-changing decisions.
OPERA -- La Favorite
(January 24, February 1, 6 at 7:30 p.m., and January 26, February 9 at 2:00 p.m)
Once the most performed opera of its time, this bel canto drama features some of the most challenging arias ever written. Woven into Donizetti's now–rarely performed La favorite is a classic love triangle among a noblewoman, king, and warrior.
OPERA -- Aida
(January 31, February 8, 11, 14 at 7:30 p.m., and February 2, 16 at 2:00 p.m)
Verdi's timeless Aida returns to the Wortham stage in an awe-inspiring new production directed by Phelim McDermott. This stunning new design is enhanced by the incorporation of visionary artists Basil Twist's silk choreography. Set in ancient Egypt during the pinnacle of war, the captive princess Aida falls in love with a conquering general and must choose between true love and loyalty to her country. The unforgettable story of sacrifice and betrayal is heightened by Verdi's powerful music.
BALLET -- The Sleeping Beauty
(February 27 to March 7, 2020)
The 50th anniversary season would not be complete without a signature Ben Stevenson production. A lavish production that premiered in 1990, Stevenson's The Sleeping Beauty is recognized as one of the supreme achievements of classical ballet. His is an exquisite interpretation of the classic French fairytale by Charles Perrault: a beautiful princess is cursed by an evil fairy, and doomed to sleep for a hundred years – only to be awakened by the kiss of the handsome prince who loves her. Stunning costumes and spectacular sets by Desmond Heeley help make the production as magical as the story it tells.
BALLET -- Forged in Houston
(March 12 to 22, 2020)
Continuing its tradition of supporting the world's most respected choreographers, Houston Ballet is pleased to present an uplifting program featuring two of the most successful ballets ever created on the Company and a World Premiere by a choreographer who grew up in Houston. Jorma Elo's ONE|end|ONEreflects the dance maker's quirky and unexpected movements to create an atmosphere of playfulness. Christopher Bruce's Hush is a comic and moving celebration of life set to the music of Yo-Yo Ma and Bobby McFerrin. Award-winning choreographer Trey McIntyre trained at Houston Ballet Academy and danced for Houston Ballet before becoming the company's first choreographic associate. Over the years he has made more than 100 ballets, many created on our dancers.
OPERA -- Salome
(April 17, 25, 28 and May 1 at 7:30 p.m., and April 19 at 2:00 p.m)
R. Strauss's powerful psychodrama Salome returns to HGO for the first time in 20 years in a production directed by Francisco Negrin. The revolutionary score reinvents Oscar Wilde's biblical drama of a deeply disturbed princess who has fallen in love with Jokanaan (John the Baptist). After he denies her, she performs the infamous and seductive "Dance of the Seven Veils" for King Herod in exchange for John's head.
OPERA -- The Magic Flute
(April 24, May 2, 5, 8 at 7:30 p.m., and April 26 at 2:00 p.m)
Filled with captivating, interactive projections, this breathtaking production by Barrie Kosky and Suzanne Andrade uses a silent-film aesthetic with 21st-century technology to deliver a Magic Flute unlike any that has been seen at HGO before. The classic story centers on the noble Prince Tamino's quest to rescue Pamina, a beautiful princess. Along the way, he is tested by forces of darkness and must overcome evil to discover truth and the meaning of justice.
BALLET -- From Houston to the World
(May 21 to 31, 2020)
Recognized worldwide as a famously musical choreographer, Mark Morris created The Letter V on Houston Ballet in 2015 to audience and critical acclaim. Of the work, Dance Europe wrote, "You left the theatre feeling a better person than when you went in, and that doesn't happen too often." Aszure Barton's Angular Momentum has notable Houston heritage. Not only was the choreographer influenced by the city's architecture including the etchings on the windows at the Center for Dance, the third movement of Mason Bates's score was written about Houston and the moon landing. Arthur Pita has created works for San Francisco Ballet and for The Royal Ballet of London, but this program marks the first time that acclaimed choreographer has worked in Houston.
BALLET -- Romeo & Juliet
(June 4 to 14, 2020)
Stanton Welch's Romeo and Juliet made its world premiere at Houston Ballet in 2015 and has since traveled as far as Australia. The exquisite production is a brilliantly imagined interpretation of the world's most famous love story. Set to Prokofiev's breathtaking score, Welch's ballet weaves the poignant tale of the star-crossed pair exquisitely. With lavish sets and costumes by acclaimed Italian designer Roberta Guidi di Bagno, the production pays tribute to Italian Renaissance. The theme is classic and the choreography fresh. The Bard himself would surely approve.