>
Calendar of Events
> Stages Theatre
Events And Theaters In Houston Area
Stages Theatre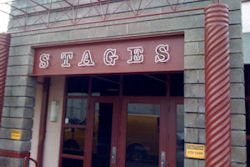 Stages Theatre
800 Rosine
Houston, TX 77019
PHONE: 713.527.0123
www.stagestheatre.com
Stages Repertory Theatre is a professional Equity theatre dedicated to providing Houston's diverse audiences with challenging, provocative theatre produced with the highest artistic standards. 
From ground-breaking new works to modern classics, Stages brings the best of today's theatre home to Houston.
"On February 22, 2019, philanthropists Lester and Sue Smith announced a $2.5 million gift to Staging Our Future: A Transformational Campaign for Stages, bringing total funds raised to $33,405,340 and allowing Stages to fully fund our new home, The Gordy. The 66,850 square foot three-theatre campus, located at 800 Rosine Street directly across the street from Stages' previous home, opened in January 2020. This extraordinary new home supports Stages' bold vision for the future of theatre-making in Houston."
Stages Theatre Schedule
The Fantasticks (January 24 to March 15, 2020)
Celebrate the love of theatre itself with this timeless gem for The Gordy's inauguration! Follow your imagination into a whimsical tale of young lovers, meddling parents, and a bond that matures in adversity. The longest-running musical in world history has been refreshed for the new century and is the perfect valentine to the theatre and the eternal power of love.
Water by the Spoonful (February 7 to 23, 2020)
An Iraq War veteran and former addict finds solace in an online chat room as he struggles to reconnect with his mother– herself a former heroin addict. Winner of the Pulitzer Prize for Drama, Water by the Spoonful is an uplifting and heartfelt meditation on broken lives, forgiveness, and the strength to carry on.
Honky Tonk Laundry (March 6 to April 19, 2020)
The creator of The Marvelous Wonderettes brings us a brand new boot-scootin' musical! After inheriting the Wishy Washy Washeteria from her grandmother, Lana Mae hires Katie to help run the business, but the two soon join forces to convert their good ol' laundromat into the town's hottest honky-tonk. This hilarious musical is packed with a country song list that spans decades of classic and contemporary hits from "I Fall to Pieces" and "These Boots Are Made for Walkin" to "Take It Back" and "Wide Open Spaces".
Sensitive Guys (March 20 to April 5, 2020)
In a small liberal arts college, two student-led support groups work to help mitigate sexual assault on campus. But a shocking allegation divides both the Men's Peer Education group and The Women's Survivor Support group as they struggle to take effective action against the toxic culture of the school. Five women perform all the roles in this compelling satire about society, gender roles and contemporary college life.
Hook's Tale (April 10 to May 3, 2020)
A long-lost journal from the notorious – and much maligned – Captain Hook offers the true tale of Peter Pan, and nothing is as you have been told! Award-winning playwright John Peilmeier (Agnes of God) joins Stages' favorite Donald Corren (Bobby Riggs in Balls!) to create a one man tour-de-force that tells the Pan story from Hook's point of view. Finally discover the friendly alligator, the helpful tick of the clock, the true love of the island's indigenous population, and the real price of never growing old in this magical, theatrical romp for the whole family.
Circle Mirror Transformation (May 1 to 17, 2020)
In a small Vermont town, an unlikely company of strangers sign up for a six-week drama class: a recently divorced carpenter, a high school junior, a former actress, and the husband of the class instructor. As the weeks pass, the powerful class exercises inspire both teacher and students to face their lives with greater courage.
Airness (June 12 to 28, 2020)
A quirky group of champion air guitarists is challenged by Nina, an ambitious female new-comer. As Nina pursues the national air- guitar title, she develops a true understanding of an art form she had once mocked – and finds her heart along the way too! Airness is an exuberant celebration of rock and roll and the towering rock performances that dare us all to pick up our imaginary guitars.