LIFEGUARDS WANTED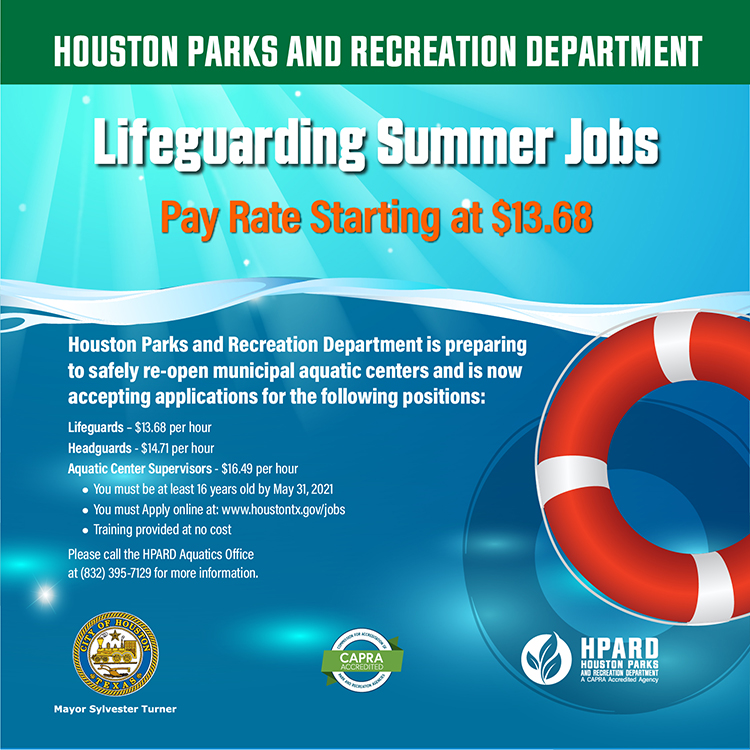 The Parks Department has reopened many of our facilities and amenities following a decline of COVID-19 cases in the Houston area. After receiving guidance from Health and Medical experts, we have proceeded as follows making sure that we observe CDC and NRPA safety guidelines.
CURRENTLY OPEN
(In compliance with CDC & NRPA guidelines for slowing the spread of COVID-19)
All parks and trails
Benches and picnic tables
Playgrounds
Spraygrounds
Outdoor exercise stations
Dog parks
Golf courses
Tennis courts
Disc golf courses
Croquet court
Curbside Meal Program
Skateparks
Volleyball courts
Alkek Velodrome
Soccer mini-pitch courts
Basketball courts
10 Outdoor swimming pools/aquatic centers (Pools will only open for recreational swimming. Programs (swimming lessons and water fitness will resume in 2022)
Sport fields for league, practice, and tournaments
HPARD adult sports leagues
HPARD youth sports (Soccer for Success, H-town Academy and GHPAL)
Summer Enrichment Program (Frequently Asked Questions pdf for download)
Senior Activity Centers* at 9 Community Centers
Weight rooms* at 9 community Centers
Fitness rooms* at at 2 community centers
Gymnasiums* at 19 community centers
Memorial Fitness Center (6402 Arnot St, 77007)*
Metropolitan Multi-Service Center and swimming pool (1475 West Gray St, 77019)*
North Wayside Sports & Recreation Center and swimming pool (9551 North Wayside Dr, 77028)
Lake Houston Wilderness Park, 25840 FM1485, New Caney, 77357, including its archery range, playground, dining hall*, overnight camping, group campsites, and group lodges.
Outdoor Area Permits and Reservations are open at 100%.
---
OPEN JUNE 14 - AUGUST 20, 2021
Summer Enrichment Program at 20 Community Centers (English pdf) | (Spanish pdf)
*with restrictions in place
Summer Food Service Program (Both on-site and Curbside at the 20 community centers with Summer Enrichment Programs)
Curbside Meals Program for Youth Only at the remaining community centers that remain closed
---
CLOSED UNTIL FURTHER NOTICE
Remaining community centers (if/or when fully staffed)
Remaining aquatic centers (if/or when fully staffed)
Community center rentals
PARKS ACTIVITIES, FACILITIES ...
PARK HEADLINES

The Houston Parks and Recreation Department will kick off Mayor Sylvester Turner's "Love Our Parks" Complete Communities Initiative with the inaugural Love Our Parks Fest on July 24, 2021 at Malone Park. The initiative targets neighborhood parks in the City of Houston in need of improvements. The fest at Malone Park will feature the unveiling of upgrades at the Third Ward greenspace, along with special programming activities from the Parks Department, Houston Public Library, HPD's Police Activities League (PAL), Houston Health Department, and Houston Public Works. Other Love Our Parks Fests are planned for the coming weeks as renovation projects are completed.
50/50 Park Partners
The 50/50 Park Partners campaign is a call to action by the Mayor's Office, Houston Parks Board, Greater Houston Partnership, and the H.P.A.R.D.
Better. Together.
The Houston Parks and Recreation Department is proud to partner with Mayor Sylvester Turner and the Houston Health Department.
Comcast Lift Zones
provide free hotspot internet access to help students get online, participate in distance learning, and do their homework. While Houston community centers are closed to the general public, Comcast Lift Zones can be accessed from the outside of the following facilities:
Almeda Community Center (14201 Almeda School Rd., 77047)
DeZavala Community Center (7521 Avenue H, 77012)
Emancipation Community Center (3018 Dowling, 77004)
Hartman Community Center (9311 E. Avenue P, 77012)
Love Community Center (1000 W 12th St, 77008)
Melrose Community Center (1001 Canino Rd, 77020)
Metropolitan Multi-Service Center (1475 West Gray, 77019)
Townwood Community Center (3403 Simsbrook, 77045)
Windsor Village Community Center (14441 Croquet Ln., TX 77085)
PARK PROJECTS AND REPAIRS
Alief Park Closed For Renovation - February 7, 2020 – Early 2022
Brock Park Golf Course & Brock Adventure Park - June 7, 2016 - Until Further Notice
Dodson Lake Park Water Sprayground – June 11, 2021 – Until Further Notice
Hermann Brown - June 11, 2021 – Until Further Notice
Hermann Park Water Sprayground – June 11, 2021 – Until Further Notice
Kendall Community Center – September 2017 – Until Further Notice
MKT Bridge – August 2020 – Until Further Notice
Shady Lane Park Water Sprayground – June 11, 2021 – Until Further Notice
Sagemont Community Center Gymnasium - October 30, 2017 - Early 2022