Administration & Regulatory Affairs
Press and News
Mayor Parker to Introduce the Nation's First Art Parking Meter Sculptures
City of Houston Merging Parking Improvements in Warehouse District with an
Innovative Meter Design Concept
October 22, 2013 -- Today, Mayor Parker introduced the six newest pieces of Houston's art collection in the heart of the Warehouse District: art parking meter sculptures designed by local artists, in partnership with Houston Arts Alliance (HAA). Houston's Warehouse District consists of art galleries, unique dining options, live music venues, businesses and residential establishments.
"We're addressing a serious parking problem with a solution that adds a fun and unique twist to traditional parking meters," said Maria Irshad, CAPP, Assistant Director. "The Warehouse District has a one-of-a-kind atmosphere and we wanted the meters to reflect that. The art meter sculptures are another characteristic that makes Houston unique in nature. Thanks to the amazing talent of four local artists, the meters will leave a memorable impression on visitors and Houston residents alike."
Mayor Parker unveiled the six new art pieces along Nance and Sterrett Streets. Artists for the project were strategically chosen through a selection process by a panel of representatives from the City of Houston and HAA, and a local artist. Applicants were asked to propose a creative idea for a parking sculpture that could withstand time, weather and natural outdoor wear and tear. Four local artists were chosen by the panel to design the sculptures:
Gumball Machine designed by Ketria Scott (1400 Nance)
Car & Meter History designed by Devon Moore (1300 Nance)
Found Art designed by David Medina (1300 Sterrett)
Wind Blown Meters designed by Anthony Shumate (3 meters on 1200 Sterrett).
"Houston Arts Alliance continues to seek unique opportunities to engage local artists and fabricators in creative placemaking across the city. Houston's Parking Management has been a great partner in realizing this unique project," said HAA President + CEO Jonathon Glus. "As the first parking meter project in the nation to employ sculptural elements to design, it exemplifies two important elements in public art: permanence and distinction."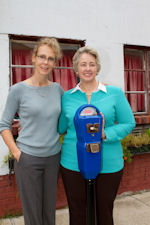 Mayor Parker stands with Ketria Scott, designer of the "Gumball Machine" art meter sculpture at 1400 Nance. (Photo by Marc Newsome)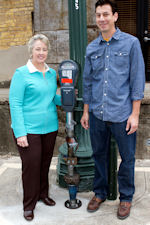 Mayor Parker stands with David Medina, designer of the "Found Art" art meter sculpture at 1300 Sterrett. (Photo by Marc Newsome)
Mayor Parker stands with Anthony Shumate, designer of the 3 "Wind Blown Meters" art meter sculptures at 1200 Sterrett. (Photo by Marc Newsome)
The "Car & Meter History" art meter sculpture, designed by Devon Moore, is in its final design stages and was not pictured. Click graphics above for full-sized versions.
More about the art meter sculpture artists:
David Medina is a Houston based sculptor who works in a variety of media, from bronze to cast resin. He has been included in exhibitions locally and regionally, and has work currently on display at the Williams Tower Gallery. For the last 10 years Medina has been a faculty member at the prestigious Glassell School of Art, teaching sculpture and foundry processes.
Devon Moore recently had his second solo exhibition at Nicole Longnecker Gallery in Houston TX. He is a mixed media artist based in the Houston Heights, and is also the owner of DCM art services which handles artwork for city collections as well as commercial galleries throughout the U.S. In addition to being a visual artist, Moore plays bass with a local Houston band, and is an avid skateboarder.
Ketria Bastian Smith has been based in Houston for many years as a sculptor and foundry specialist. She has been awarded a number of public art commissions, including a sculptural fountain in downtown Houston's historic Market Square. Smith is co-owner of Ken King Foundry which is known state wide for working with the region's most well-known artists.
Anthony Thompson Shumate is currently working on a number of civic art projects in the state of Texas. He is a Houston based artist who earned his BFA from The University of Texas at San Antonio and his MFA from the University of Houston. Shumate has annual exhibitions locally in Houston as well as juggling his public art projects.
About Houston Arts Alliance: Houston Arts Alliance (HAA) is a nonprofit agency established by the City of Houston to enhance the quality of life and tourism by advancing the arts in the Houston region. HAA invests in and nurtures Houston's thriving creative community by providing more than 225 grants to nonprofit arts organizations and individual artists each year, commissioning the work of artists for public spaces, managing the city's art collection, showcasing Houston's rich folklife traditions, cultivating skill-based volunteers, and empowering arts organizations to become sustainable and reach new audiences through business incubation and other services. For information on Houston-area arts and culture events, visit HAA's online resource at Artshound.com. For more information on HAA, visit houstonartsalliance.com.
The six art meter sculptures were installed as part of a new parking plan in Houston's Warehouse District to reduce the lack of parking spaces for customers and residents. Before the installation of 145 paid meter parking spaces, employees of nearby businesses, Harris County and Metro and University of Houston students occupied the free curbside parking throughout the day, leaving potential customers and residents in the area without daytime parking. The District's free curb space also resulted in increased traffic from drivers circling the area searching for an available space. The new paid parking spaces will help reduce parking stress and encourage turnover for customers and residents. The meters operate Monday through Saturday, 7 a.m. to 6 p.m.