BARC ANIMAL SHELTER AND ADOPTIONS
Cat Wellness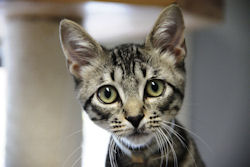 Permanent Pre-Registered Microchip with Lifetime Registration - $15
Wellness Vaccinations & Testing
Rabies Vaccination (4 months old and over) - $10.00
FVRCP (Feline Distemper) - $18.00
FELV/FIV Test (Leukemia/Immunodeficiency Virus) - $25.00

ULTIMATE PACKAGE: FVRCP, Deworm, Rabies, FeLV/FIV Test, 1yr Supply Advantage Multi ($230)
PREMIUM PACKAGE: FVRCP, Deworm, Rabies, FeLV/FIV Test ($55)
STANDARD PACKAGE: FVRCP, Deworm, Rabies ($35)
Flea Preventatives
Advantage Multi
Advantage Multi® for Cats is a convenient, broad-spectrum heartworm preventive in a monthly topical application. It is also indicated to kill adult fleas and treat flea infestations, as well as to treat and control roundworm infections caused by Toxocara cati, hookworm infections caused by Ancylostoma tubaeforme, and ear mite infestations caused by Otodectes cynotis. Advantage Multi for Cats is for use on cats and kittens at least 9 weeks of age and weighing at least 2 lbs.
| | | |
| --- | --- | --- |
| 2-5 lbs | 5-9 lbs | 9-18 lbs |
| $17.00 | $17.00 | $17.00 |
Frontline
Frontline Plus is a monthly topical flea and tick preventative for dogs and cats. Frontline Plus kills 100% of adult fleas on your pet within 12 hours and 100% of all ticks and chewing lice within 48 hours.
Single dose
Capstar
Capstar Flea Treatment Tablets are used to kill fleas on dogs and cats, which begins working within 30 minutes.
Single dose
| | |
| --- | --- |
| 2-25 lbs | 25 lbs and over |
| $5.00 | $5.00 |