Administration & Regulatory Affairs
Press and News
Reunited and It Feels So Good
BARC Microchip Helps Reunite Owner with Pup Missing for Over a Year
BARC Offering Microchip Services for $10 Tomorrow!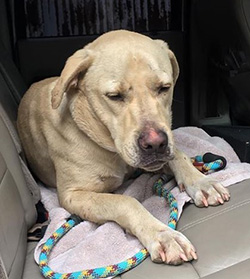 March 7, 2019 -- Thanks to a microchip and a kind BARC volunteer, a yellow lab named Max was reunited with his owner after going missing more than a year ago.
"Max was in the median about to be hit by a truck, licking a Styrofoam lid when I found him," said Tina Stone, a volunteer at BARC, the City of Houston's Animal Shelter and Pet Adoption Center. "He walked right up to me, and I fed him a can of dog food which he practically inhaled. I'm thrilled he's been reunited with his family after all this time."
Lucky for Max, his owner made sure he had a BARC-implanted microchip containing his pet licensing records and contact information for his owner. Upon contacting the owner, BARC staff learned that he had been looking for his lost pet for more than a year. Thanks to the implanted microchip, BARC was able to happily reunite Max with his family the same day.
"BARC wants every story to end as happy as Max's," said Greg Damianoff, shelter director. "Microchips are a quick and easy way to keep your pet safe and secure in the event you get separated. Every pet should have one."
Microchip services are usually offered by the shelter for $15, however, BARC will have microchips available for the discounted price of $10 on March 8th, 15th and 29th at BARC's wellness clinic located at 3200 Carr Street, Houston, TX 77026 from noon to 4 p.m. Additional wellness services are available during regular scheduled clinic hours on Sunday, Monday, Wednesday, Thursday and Saturday from noon to 4 p.m. For more information please call 311.
About the BARC
BARC, the City of Houston's Animal Shelter and Pet Adoption Center, takes in more than 25,000 animals annually regardless of behavior, breed, or medical condition. BARC works each day to improve the health and safety of Houstonians and their pets by pioneering programs such as low cost and no cost spay/neuter services, mobile adoptions, transfer/rescue partnerships, and community outreach. Through these programs and with support from community partners, BARC's live release rate has improved from single-digits in 2009 to an 85% in 2018.
The simplest, but most powerful thing Houstonians can do to help BARC and pets throughout the community is to foster, volunteer, donate and adopt. If you are unable to permanently adopt a pet but would like to help animals in need, BARC encourages you to consider becoming a volunteer or a foster pet parent at BARC. By getting these animals out of BARC and into foster homes, BARC has more space for additional animals as they enter the shelter.
Visit www.houstonbarc.com or www.Facebook.com/BARCHouston for more information.