>
Office of Talent & Organizational Development
> Strategic Partnerships and Alliances
Strategic Partnerships and Alliances
At the Office of Talent & Organizational Development, we believe that empowered, focused, and collaborative learners are the critical catalysts for meaningful change in the workplace. In order to make significant progress that drives innovation, the department offers unparalleled access to cutting-edge training, and provides Houston's workforce with invaluable real-world experience by leveraging our resources and capabilities along with those of our partners.
---
Current Partnerships & Alliances
Our university partnerships and alliances support the department's strategic plan to advance employees in their careers through collaborations to earn certificates and degrees in many areas of study. In most cases, programs are available at reduced rates.
---
---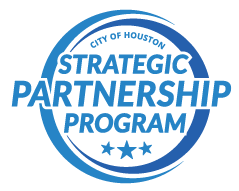 Who can partner with the Office of Talent & Organizational Development?
Partners may include – but are not restricted to – other industry entities, organizations representing the industry through learning, development training and education, peak industry associations, regional/intergovernmental organizations or other non-governmental organizations.
---
Office of Talent & Organizational Development | 4501 Leeland Street | Houston, TX 77023 | Phone: 832-395-4900 | Fax: 832-395-4892
Hours of Operation: Mon-Fri: 6:30 a.m. – 5 p.m.