>
Office of Talent & Organizational Development
> Signature Programs
Signature Programs
City Accreditation Program for Supervisors (CAPS): CAPS is our middle management multi-track program consisting of 18 sessions designed to assist supervisor competencies in managing various circumstances regarding employee workday considerations and performances.
Check out the CAPS FAQ (Frequently Asked Questions) for more information.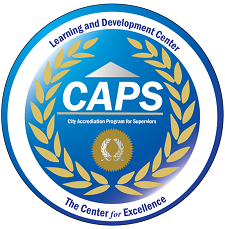 CAPS - City Accreditation Program for Supervisors
The next CAPS program will start on February 8, 2022 and will end on June 14, 2022.

Supervisors who have served in a supervisory position for five years or less are eligible to apply. Applications for the program opened on November 18, 2021 and will close on December 18, 2021.
Administrative Development Program (ADP): ADP is our multi-track program consisting of 16 sessions designed to enhance and empower administrative communicative effectiveness and efficiency for Administrative Assistants or those who wish to move into a position in the Administrative Assistant job family.
Leadership Institute Program (LIP): The Leadership institute Program (LIP) was created to implement a leadership and succession planning program that develops strong, confident leaders in management and supervision at all levels at the City of Houston.
Emerging Leaders: Employees can lead from any position in the organization.They will learn how to own their own professional development, their communication styles, and have a reputation for setting high goals.
Office of Talent & Organizational Development | 4501 Leeland Street | Houston, TX 77023 | Phone: 832-395-4900 | Fax: 832-395-4892
Hours of Operation: Mon-Fri: 6:30 a.m. – 5 p.m.